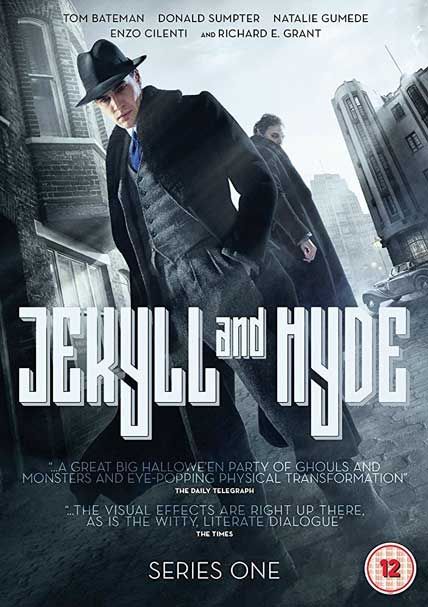 It's 1930s London and Robert Jekyll is a naive, sensitive young man finding his place in the world and moving away from the protection of his loving foster parents. As he begins to feel himself coming under the power of a darkness he cannot control, he realizes that all this time his parents were protecting him from his true self. Jekyll has inherited the curse of his grandfather, and when angered or in danger he undertakes a graphic and twisted transformation to become Hyde, a shadowy, brooding figure of incredible strength and agility; confident and fearless. As he tries to discover his past and search for a cure, Robert Jekyll is drawn deep into Hyde's world of monstrous creatures and freaks of nature.
Season 01 , Episode 01 – "The Harbinger"
Fantasy adventure series inspired by Robert Louis Stevenson's novel. The grandson of the infamous Dr Jekyll returns to London from Ceylon in the 1930s when he receives an inheritance. As he delves into his family's mysterious past, he does not realise he is being pursued by members of a secret society – while a ruthless spymaster intends to use him as bait for a trap. Starring Tom Bateman and Richard E Grant.
Season 01 , Episode 02 – "Mr Hyde"
Flashback to Ceylon: Captain Dance interrogates Robert's foster parents, demanding to know where Robert is? In the chaos Ravi, Robert's younger brother, escapes into the night and straight into the arms of the Police – who arrest him.
Season 01 , Episode 03 – "The Cutter"
After Garson tells Robert that his ancestors unleashed their dual identities with a form of medication, Robert is determined to cure himself the same way. Desperate to hide his secret from Lily, Robert tries some old potions from the laboratory. Garson also tells Robert that his grandmother Maggie may still be alive. Max's assistant Hils manages to prise some vital clues from Bella, and Robert and his friends race to find Maggie before Captain Dance's team can kill her.
Season 01 , Episode 04 – "The Calyx"
Wracked with guilt after failing to get to his grandmother Maggie before Captain Dance's men, Robert, Lily and Garson work tirelessly to cure her of sepsis. Garson makes the chance discovery that Hyde's blood has antibiotic properties. Dance and Bulstrode play cat and mouse in their pursuit of Hyde because Dance believes that only Hyde can help him resurrect the demonic Lord Trash. Robert risks everything by turning into Hyde, but will he be able to save Maggie?
Season 01 , Episode 05 – "Black Dog"
Robert visits a distant branch of his family in the country. But, when he and Max learn that a series of murders have occurred in the village—supposedly committed by a legendary demon dog—they suspect the involvement of Tenebrae.
Season 01 , Episode 06 – "Spring-Heeled Jack"
Robert agrees to help the secretive MIO agency investigate a series of monster-related murders in return for Ravi's freedom. However, Robert soon learns that the MIO are not to be trusted.
Season 01 , Episode 07 – "The Reaper"
Robert and Ravi race against time to find the parasite-infected Jack; but when things take a turn for the worse, Robert devises a way to free himself from the MIO for good.
Season 01 , Episode 08 – "Moroll"
Robert has no wish to help the MIO find the monster that is killing wealthy young men, but when he's taken to the latest murder scene something catches his eye. Following a trail, Hyde finds himself face to face—and fighting—a female vampire. This is no ordinary vampire and she challenges everything he thinks he knows by revealing two surprising pieces of information: one concerning the unlikely connection the two of them share, and the other… the shocking truth of Captain Dance's fate.
Season 01 , Episode 09 – "The Incubus"
Robert seeks sanctuary in the Jezequiel House and takes Olalla and Ravi with him; although Olalla senses something is amiss and that they are far from safe. Meanwhile, Bulstrode searches for them in London without success and Lily fares no better in learning any information of their whereabouts from Garson. So when Lily arrives in the country, Robert is astonished that she knew where to find him. But is it really Lily?
Season 01 , Episode 10 – "The Heart Of Lord Trash"
Robert and his team are returning to London when Fedora ambushes them on the road. Fedora's goal is to retrieve the Incubus and use its power to revive Dance. With the Incubus' power inside him, Dance can now open the stone Calyx, containing Lord Trash's heart, by himself. When Robert realises the enemy is mobilising, he searches for Lily but is unprepared for what he discovers upon finding her. Robert cannot see a way out, until Olalla and Renata reveal how he might destroy the heart.
http://www.rarefile.net/1ne0thlp09ux/Jekyll.and.Hyde.S01E01.720p.mkv
http://www.rarefile.net/bh688w68z1j1/Jekyll.and.Hyde.S01E02.720p.mkv
http://www.rarefile.net/fnwjmn1zrsfl/Jekyll.and.Hyde.S01E03.720p.mkv
http://www.rarefile.net/oqf8xiayukop/Jekyll.and.Hyde.S01E04.720p.mkv
http://www.rarefile.net/8sr8ilfcvvcp/Jekyll.and.Hyde.S01E05.720p.mkv
http://www.rarefile.net/kw4fomj5quas/Jekyll.and.Hyde.S01E06.720p.mkv
http://www.rarefile.net/i93e0cj0bzjj/Jekyll.and.Hyde.S01E07.720p.mkv
http://www.rarefile.net/gaipq9689kyy/Jekyll.and.Hyde.S01E08.720p.mkv
http://www.rarefile.net/r3pns4q430fr/Jekyll.and.Hyde.S01E09.720p.mkv
http://www.rarefile.net/lzb16wae15ir/Jekyll.and.Hyde.S01E10.720p.mkv
.