| | |
| --- | --- |
| | Visual Thesaurus 3.01 Build 1222 Desktop Edition |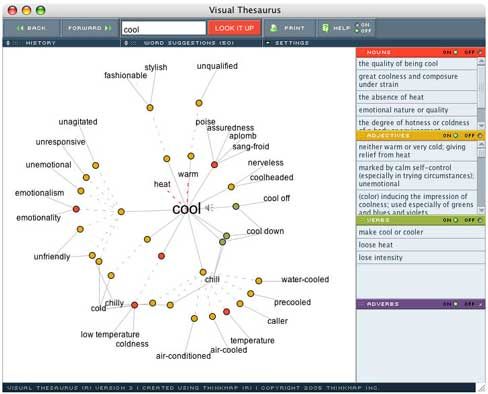 The Visual Thesaurus is an interactive dictionary and thesaurus which creates word maps that blossom with meanings and branch to related words. Its innovative display encourages exploration and learning. You'll understand language in a powerful new way.
Say you have a meaning in mind, like "happy." The Visual Thesaurus helps you find related words, from "cheerful" to "euphoric." The best part is the Visual Thesaurus works like your brain, not a paper-bound book. You'll want to explore just to see what might happen. You'll discover — and learn — naturally and intuitively. You'll find the right word, write more descriptively, free associate — and gain a more precise understanding of the English language.
With the Desktop Edition of the Visual Thesaurus, you can:
- Find the right word. The VT has over 145,000 English words and 115,000 meanings. Find the word you need and discover related meanings.
- Develop a better vocabulary. See how words are used in different parts of speech.
- Use words precisely. The intuitive interface helps you find words through their semantic relationship with other words and meanings.
- Master word usage. Roll over a meaning to see its definition and example sentences that express that meaning.
- Improve your grammar. Meanings are color-coded to indicate parts of speech.
- Explore 39,000 proper nouns. Historical figures, phrases and trademarks are included. Look up Mozart, Manda or simply, "M."
- Check your spelling. The VT suggests a word if you spell it wrong.
- Hear words pronounced correctly. The VT offers both American and British pronunciations (Internet connection necessary)
- Personalize your experience. Use the Settings Panel to control font size, filter content, display up to 17 semantic relationships and more.
- Browse language in 2D or 3D. Rotate word maps in three dimensions to reveal complex relationships.
- Connect to the Internet. Right-click on any word to launch an Internet search for images or information.
FOR WINDOWS 7 (32 AND 64 BIT INSTALLATION – THRU THE KINDNESS OF ALWAYSONTOP:
From windows.install folder lookup for the VT_Setup.exe file. Right-click it, select Properties. Select Compatibility tab, enable Run this programin compatibility mode for: and from the drop down menu select Windows XP (Service Pack 2). Click OK. Now run the VT_Setup.exe to install. Follow screen instructions and you're done.
http://www.rarefile.net/blpcigxojeap/VisualThesaurus.3.01Build1222.Desktop.Ed.rar
.
8 Responses to this entry.
1. Dr Narayanan Says:
September 8th, 2017 at 10:51 pm

Program launch failed in Windows 10 wth the message "LaunchAnywhere Error", "Windows error 2 occurred while loading the Java VM"

2. maxdugan Says:
September 8th, 2017 at 11:05 pm

Hello Dr Narayanan, this is a java problem, kindly try updating your java program, thank you very much

3. Dr Narayanan Says:
September 10th, 2017 at 1:11 am

Hello Max,
Thank you very much. Even though the JAVA Control panel indicated that JAVA in my PC is uptodate, I reinstalled JAVA and now the program is working. Thanks a lot.

4. maxdugan Says:
September 10th, 2017 at 6:18 pm

THats great Dr Narayanan, thank you very much

5. alwaysontop Says:
January 26th, 2018 at 5:31 am

Hi max. Thanks for inserting my instructions. In fact I lost this app and re-downloading it again for the new lappy.

6. maxdugan Says:
January 26th, 2018 at 2:39 pm

Thank you very much Alwaysontop

7. alwaysontop Says:
January 27th, 2018 at 9:39 am

To all Windows 10 users, to make this application work, after installing it, delete the folder "javapath" in: C:\ProgramData\Oracle\Java\javapath . Ensure that you have the Java installed in your system before installing it. Thanks.

8. maxdugan Says:
January 27th, 2018 at 5:59 pm

Thank you very much Alwaysontop
Leave a Reply