| | |
| --- | --- |
| | Intuit QuickBooks Desktop Pro 2016 16.0 R9 |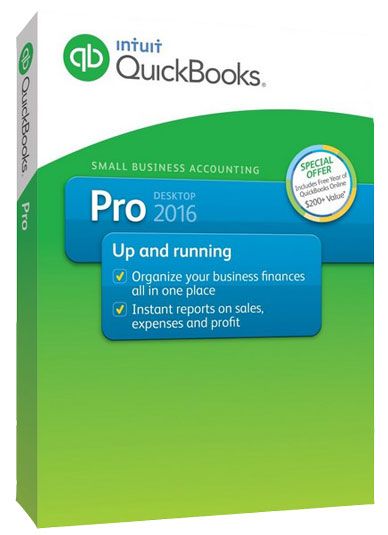 Organize your business finances easily. 3 out of 4 customers get more work done with QuickBooks. Connect your bank accounts, and QuickBooks Online downloads transactions automatically. Sync, link, and import data from apps you already use like Paypal, American Express, and Square. And much more!
Stay in sync with your bank
Automatically download, categorize, and reconcile bank and credit card transactions
Track your expenses
Record expenses for tax time. You can even photograph and save receipts with your phone.
Send professional invoices
Easily create custom invoices with your company branding and the fields you need.
Get paid 2x faster
Email invoices and accept online and mobile payments. Additional fees apply
Pay your employees
NEW! Have an expert run payroll for you. Additional fees apply.
Connect to your apps
Sync data from popular apps like PayPal, Square, and others into QuickBooks.
Know where your business stands
See your Profit & Loss, Balance Sheet, and dozens of other reports in one click.
Manage and pay bills
Record and pay bills from vendors. You can also schedule recurring payments.
Automatic backups
QuickBooks backs up your data everyday with bank-level security.
http://www.rarefile.net/7e33zx74nvsc/QuickBooks.2016.16.0R9.part1.rar
http://www.rarefile.net/qjcqef2wfsiu/QuickBooks.2016.16.0R9.part2.rar
.
7 Responses to this entry.
1. Perran Says:
April 21st, 2017 at 11:50 am

hi max

can download files up to 350 Mb only these files are bigger then this
can not download

2. maxdugan Says:
April 21st, 2017 at 4:46 pm

Hello Perran, free users can now download files up to 500MB and also more files, kindly read the announcement on the front page for free users – http://www.allyoulike.com/132614/good-news-for-free-users/ , please follow the instructions and you are good to go, thank you very much.

3. Ray Clemen Says:
April 23rd, 2017 at 11:19 am

Hi
Hope Canadian version is also available.

4. maxdugan Says:
April 23rd, 2017 at 7:20 pm

Hello Ray Cleman, let me check that out for you, thank you very much

5. Alex-khan20017 Says:
May 6th, 2017 at 1:40 am

The validation key don't work. Can you fix it? Thank you

6. torch Says:
May 27th, 2017 at 4:13 am

Hello. Any chance you can get the Intuit Quickbooks 2017 for Mac. Thank you so much.

7. anne Says:
June 7th, 2017 at 9:48 am

Hi Max,

Good day!

Please help.
We're encountering error during installation:
"Sorry, it looks like you need a subscription to start using Quickbooks"

Thank you.
Leave a Reply