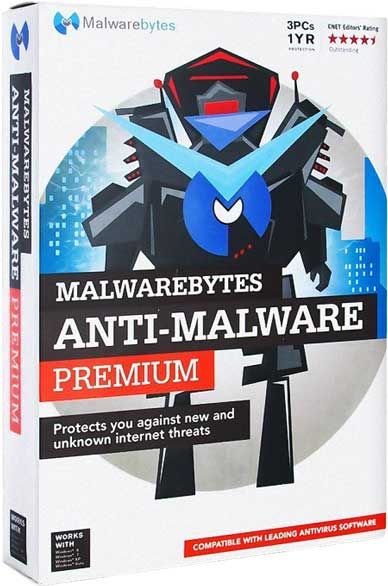 Malwarebytes Anti-Malware is an antimalware application that can thoroughly remove even the most advanced malware. Malwarebytes products have a proven record of protecting computers by completely removing all forms of malware, including viruses, Trojans, spyware, adware and rootkits. Malwarebytes Premium detects and removes malware where even the best known anti-virus and anti-malware applications fail. It monitors every process and stops malicious processes before they even start.
The Proactive Protection Module keeps your system safe and secure with advanced heuristic scanning technology.
Malwarebytes 3.0 is the next-gen security program that protects you from the most advanced (zero-day) threats, making antivirus obsolete.
Malwarebytes 3.0 combines all of our malware-fighting technology-anti-malware, anti-ransomware, anti-exploit, and malicious website protection into one program that scans 4x faster than previous versions of Malwarebytes Anti-Malware Premium.
Malwarebytes 3 Premium Benefits:
Protects you from advanced (zero-day) threats, including ransomware, so you can surf the Web without worry
Removes all traces of malware for complete safety
Removes potentially unwanted programs (PUPs) that make your computer run poorly
Scans fast so you do not have to sit around and wait for your security to finish working
Easy to use, just set it and forget it
Can replace antivirus or run alongside other antivirus programs
Malwarebytes Anti-Malware screenshotMalwarebytes advanced technology protects businesses from the constantly-evolving threat that malware poses to corporate systems. From data loss to network corruption, undetected malware can decrease revenue and wreak havoc on your network. Malwarebytes provides maximum protection while using minimal resources, to keep your system focused on your business.
Whats New :
Performance/protective capability
Several improvements to malware detection and remediation capabilities
Several performance improvements, including improving startup time, improving shutdown time on Windows 7, addressing memory leaks and reducing CPU usage after a scan has completed
Added MS Publisher as a default Protected Application for anti-exploit protection
Usability
Fixed issue where a previously activated Premium license could be dropped incorrectly
Fixed issue where Malwarebytes version information would revert to default values of 3.0.0 in certain cases, such as when coming back from minimal safe mode
Fixed issue where 'Real-Time Protection turned off' notifications would display incorrectly on initial startup
Fixed problem where the 'Check for updates every' setting would get stuck at 14 days after changing frequency to 'Days'
Fixed Help question marks throughout the main user interface so that they work when clicked
Stability/issues fixed
Addressed several crashes and blue screens, including the BSOD that could occur with Web Protection on Windows Insider Previews
Fixed the issue with Exploit Protection that caused Edge to crash/hang on Windows Insider Previews
Fixed issue when Exploit Protection was enabled that caused PowerPoint to not load
Fixed conditions that could lead to an 'Unable to connect to service' error
Fixed issue where exclusions did not work properly when there were associated threat traces detected
Fixed issue where Web Protection would not start up properly
Fixed numerous scan hangs or crashes, including one that could occur during heuristics phase
Numerous other fixes to improve overall program stability and usability
http://www.rarefile.net/x97uk9q6zcu5/Malwarebytes.Anti.Malware.Premium.3.8.3.2965.PreActivated.rar
http://www.rarefile.net/fcrpj0plrzw5/Malwarebytes.Premium.3.7.1.2839.rar
http://www.rarefile.net/xoso24ik5h8k/Malwarebytes.AntiMalware.3.6.1.2711.PreActivated.rar
http://www.rarefile.net/emaucbukj3mp/Malwarebytes.Premium.v3.5.1.2522.Multilingual.PreActivated.rar
http://www.rarefile.net/6oe4qjklpz50/Malwarebytes.Premium.3.4.5.2467.PreActivated.rar
http://www.rarefile.net/kxcl0hmvjr2o/Malwarebytes.Premium.3.3.1.2183.rar
http://www.rarefile.net/8m227aqq8h0b/Malwarebytes.AntiMalware.Premium.v3.2.2.2029.PreActivated.rar
http://www.rarefile.net/gluigq9ues4d/Malwarebytes.Premium.v3.1.2.1733.20170606.rar
http://www.rarefile.net/eo9fcau70dh4/MalwarebytesPremium.3.0.6.1469..PreActivated.rar
.