| | |
| --- | --- |
| | SHOA DVDRip – Film Event of the Century! |
"For more than nine hours I sat and watched a film named "Shoah," and when it was over, I sat for a while longer and simply stared into space, trying to understand my emotions. I had seen a memory of the most debased chapter in human history. But I had also seen a film that affirmed life so passionately that I did not know where to turn with my confused feelings. There is no proper response to this film. It is an enormous fact, a 550-minute howl of pain and anger in the face of genocide. It is one of the noblest films ever made" – Roger Ebert.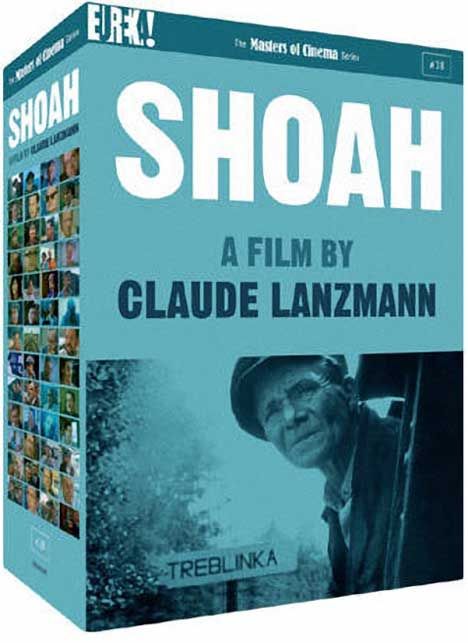 Shoah is a nine-hour film completed by Claude Lanzmann in 1985 about the Holocaust (or Shoah). Though Shoah is conventionally classified as a documentary film, director Lanzmann considers it to fall outside of that genre as, unlike most historical documentaries, the film does not feature reenactments or historical footage; instead it consists of interviews with people who were involved in various ways in the Holocaust, and visits to different places they discuss.

The film is concerned mainly with four topics: Chełmno, where gas vans were first used to exterminate Jews; the death camps of Treblinka and Auschwitz-Birkenau; and the Warsaw Ghetto, with testimonies from survivors, witnesses, and perpetrators.
The sections on Treblinka include testimony from Abraham Bomba, who survived as a barber, Richard Glazer, an inmate, and a rare interview with Franz Suchomel, an SS officer who worked at the camp who reveals intricate details of the camp's gas chamber. Suchomel apparently agreed to provide Lanzmann with some anonymous background details; Lanzmann instead secretly filmed his interview, with the help of assistants and a hidden camera. There is also an interesting account from Henrik Gawkowsky, who drove one of the trains while intoxicated with vodka.
Testimonies on Auschwitz are provided by Rudolf Vrba, who escaped from the camp before the end of the war, Filip Müller, who worked in an incinerator burning the bodies from the gassings. There are also accounts from various Polish locals, who saw the trains heading daily to the camp and leaving empty; they quickly guessed the fate of those on board.
In regards to Chełmno, the only two Jews to survive are both interviewed: Simon Srebnik, who was forced to sing military songs to amuse the Nazis; and Mordechai Podchiebnick. There is also a secretly-filmed interview with Franz Schalling, who was a guard.
The Warsaw ghetto is discussed toward the end of the film, and the appalling conditions there are described by Jan Karski, who worked for the Polish government-in-exile, and Franz Grassler, a Nazi administrator who liaised with Jewish leaders. Memories from Jewish participants in the Warsaw Ghetto uprising conclude the documentary.
Outside the archetypes discussed below, Lanzmann also interviews Holocaust historian Raul Hilberg, who discusses the historical significance of Nazi propaganda against the European Jews and the Nazi invention of the Final Solution.
Though the film has generally been highly praised, some Poles have criticized Lanzmann claiming he was selective in his use of Polish subjects, that he mistranslated some dialogue, and that he edited the film to create the impression that Poles willingly co-operated with the Nazis, cutting out anything which contradicted this view. The late film critic Gene Siskel counted Shoah as being one of his top ten favorite films.
The complete text of the film was published in 1985.
Archetypes in Shoah
Shoah consists of roughly 9 hours of interviews with witnesses of the Holocaust. Lanzmann's style of interviewing, and his selection of interview footage divides his witnesses into three distinct archetypes: survivor, bystander and perpetrator. Lanzmann makes an effort to represent each archetype quite differently.
Survivors are those who directly experienced the persecution and horror of the Holocaust, and survived to tell their story. All of the survivors that Lanzmann interviews are Jewish. Lanzmann uses these survivors to present a historical record. Many survivors give long, detached descriptions of the events that they witnessed. For example, in Part 4, we hear Filip Müller and Rudolf Vrba describe the liquidation of the family camp at Auschwitz. Their testimonies form an historical narrative.
Other survivors tell of their own personal experiences of the Holocaust. Müller does not just describe the gassing of the prisoners from the family camp; he also talks about what the prisoners said to him, and describes the experience of going into the gas chamber himself. This testimony is a personal narrative. Lanzmann's survivors react emotionally to what they witnessed. Müller breaks down as he recalls the prisoners breaking into song while being forced into the gas chamber. The camera pulls in close, to capture every detail of his distress. Lanzmann also encourages his witnesses to act out their testimony.
In Part 3 Lanzmann interviews Abraham Bomba, a barber at Auschwitz, while he cuts hair in a barber's shop. He breaks down while describing how a barber friend of his came across his wife while cutting hair outside the gas chamber. As the camera captures his anguish, Bomba's personal narrative is unspoken as well as spoken.
Bystanders are those who were present during the events of the Holocaust without directly being part of it. Some were peripherally involved while others were witnesses. All of the bystanders that Lanzmann interviews are Polish. Lanzmann procures personal narratives from these bystanders. He interviews many of them in the same way that he interviews his witnesses.
In Part 1 he takes Pan Falborski, a Polish bystander, on a train to Treblinka while we watch his reaction. Lanzmann also drives him along the streets of Wlodawa in a car while he talks about the Jews who used to live in the passing houses. In Part 2 Falborski talks about the gas vans and the mass graves. Karski returns and gives a detailed, emotional description of the ghetto.
Lanzmann interviews many bystanders in public groups. He does not ask for their names or for detailed testimony. Of many bystanders he asks what they saw or heard, and whether they knew what was going on in the death camps. His questions reveal how little anyone saw or heard. They also reveal that people knew some of what was happening, but they did nothing. In Part 2 he talks to a group of Polish women in Grabow. Under his questions, they reveal that they did not like the Jewish women who used to live in Grabow because they were rich and beautiful and did not have to work. Another bystander, a man, reveals that he is happy that the Jews are gone, but would rather they had gone to Israel voluntarily than be exterminated. In an interview outside a Catholic church, with Simon Srebnik present, he encourages bystanders to talk about the Holocaust in terms of justice for the biblical killing of Jesus by the Jews.
Perpetrators are those who were directly involved in orchestrating the Holocaust. All of the perpetrators that Lanzmann interviews are German. From these perpetrators, Lanzmann establishes a historical narrative. They give detailed, detached accounts of the workings of the Holocaust.
In Part 2, Franz Schalling describes the workings of Chełmno where he served as a security guard. In Parts 1, 2 and 3, Franz Suchomel talks about the workings of Treblinka where he was an SS officer. In Part 3, Walter Stier, a former Nazi bureaucrat, describes the workings of the railways. Sometimes their testimony becomes more personal. Schalling expresses sympathy for his Jewish victims, but Lanzmann moves him on. Lanzmann is also concerned with establishing their knowledge of the Holocaust. Many of his perpetrators assert their ignorance of what was going on. Suchomel claims that he did not know about extermination at Treblinka until he arrived there. Stier claims to have been too busy to find out that his trains were transporting Jews to their deaths. In each case, Lanzmann challenges their assertions of ignorance with relentless questions.
Some subjects fail to fit neatly into any of the these three categories, like the courier to the Polish Government in Exile, Jan Karski. Karski, a Christian, sneaks into the Warsaw ghetto and then escapes to England to try to convince the Allied governments to intervene more strongly on behalf of the Jews, but fails in doing so.
BAFTA Awards
1987 Won Flaherty Documentary Award Claude Lanzmann
Flaherty Documentary Award (TV) Claude Lanzmann
Berlin International Film Festival
1986 Won Caligari Film Award Claude Lanzmann
FIPRESCI Prize Forum of New Cinema Claude Lanzmann
OCIC Award – Honorable Mention Claude Lanzmann
Boston Society of Film Critics Awards
986 Won BSFC Award Best Documentary
César Awards, France
1986 Honorary César Claude Lanzmann
International Documentary Association
1986 Won IDA Award Claude Lanzmann
Kansas City Film Critics Circle Awards
1987 Won KCFCC Award Best Documentary
Los Angeles Film Critics Association Awards
1985 Won Special Award Claude Lanzmann
National Society of Film Critics Awards, USA
1986 Won NSFC Award Best Documentary
New York Film Critics Circle Awards
1985 Won NYFCC Award Best Documentary
Rotterdam International Film Festival
1986 Won Rotterdam Award Best Documentary Claude Lanzmann
The film's title is a Hebrew word for chaos or annihilation – for the Holocaust. The film is a documentary, but it does not contain images from the 1940s. There are no old newsreel shots, no interviews with the survivors of the death camps, no coverage of the war crimes trials. All of the movie was photographed in the last five or six years by a man named Claude Lanzmann, who went looking for eyewitnesses to Hitler's "Final Solution." He is surprisingly successful in finding people who were there, who saw and heard what went on. Some of them, a tiny handful, are Jewish survivors of the camps. The rest are mostly old people, German and Polish, some who worked in the camps, others who were in a position to observe what happened.
They talk and talk. "Shoah" is a torrent of words, and yet the overwhelming impression, when it is over, is one of silence. Lanzmann intercuts two kinds of images. He shows the faces of his witnesses. And then he uses quiet pastoral scenes of the places where the deaths took place. Steam engines move massively through the Polish countryside, down the same tracks where trains took countless Jews, gypsies, Poles, homosexuals and other so-called undesira bles to their deaths. Cameras pan silently across pastures, while we learn that underneath the tranquility are mass graves. Sometimes the image is of a group of people, gathered in a doorway, or in front of a church, or in a restaurant kitchen.
LINKS ARE INTERCHANGEABLE
RAREFILE
http://www.rarefile.net/8t89vlwbw4hy/SHOAH.part01.rar
http://www.rarefile.net/w7kmzn1kgv2k/SHOAH.part02.rar
http://www.rarefile.net/30v7a3qtgexu/SHOAH.part03.rar
http://www.rarefile.net/ctwwfmlkrmvn/SHOAH.part04.rar
http://www.rarefile.net/4gue3zdndgo5/SHOAH.part05.rar
http://www.rarefile.net/88mywuxyphuq/SHOAH.part06.rar
http://www.rarefile.net/ejwtqk4mcpx4/SHOAH.part07.rar
http://www.rarefile.net/25q099ng30jv/SHOAH.part08.rar
http://www.rarefile.net/w7ak2aij8xez/SHOAH.part09.rar
http://www.rarefile.net/jggfsl20bnnv/SHOAH.part10.rar
http://www.rarefile.net/4lszr3c8pri9/SHOAH.part11.rar
http://www.rarefile.net/oy02h5ydeq7h/SHOAH.part12.rar
http://www.rarefile.net/33b9my9fowfy/SHOAH.part13.rar
http://www.rarefile.net/yrsng4c9jtnm/SHOAH.part14.rar
http://www.rarefile.net/raqurj7chjxv/SHOAH.part15.rar
http://www.rarefile.net/cibzwogt6c05/SHOAH.part16.rar
http://www.rarefile.net/attqzcref1we/SHOAH.part17.rar
http://www.rarefile.net/b1xuf780bkly/SHOAH.part18.rar
http://www.rarefile.net/k0wzrdpt0wjk/SHOAH.part19.rar
http://www.rarefile.net/18psxdic2hz7/SHOAH.part20.rar
EXTABIT
http://extabit.com/file/279ob3ae2go21/SHOAH.part01.rar
http://extabit.com/file/279ob3ae2gkx5/SHOAH.part02.rar
http://extabit.com/file/279ob3ae2gem1/SHOAH.part03.rar
http://extabit.com/file/279ob3ae2gkwp/SHOAH.part04.rar
http://extabit.com/file/279ob3ae2gks9/SHOAH.part05.rar
http://extabit.com/file/279ob3ae2gkrd/SHOAH.part06.rar
http://extabit.com/file/279ob3ae2gktl/SHOAH.part07.rar
http://extabit.com/file/279ob3ae33bft/SHOAH.part08.rar
http://extabit.com/file/279ob3ae2geg9/SHOAH.part09.rar
http://extabit.com/file/279ob3ae2geft/SHOAH.part10.rar
http://extabit.com/file/279ob3ae2gefd/SHOAH.part11.rar
http://extabit.com/file/279ob3ae2go2x/SHOAH.part12.rar
http://extabit.com/file/279ob3ae33bi1/SHOAH.part13.rar
http://extabit.com/file/279ob3ae2gkt5/SHOAH.part14.rar
http://extabit.com/file/279ob3ae2geh5/SHOAH.part15.rar
http://extabit.com/file/279ob3ae2gku1/SHOAH.part16.rar
http://extabit.com/file/279ob3ae33bg9/SHOAH.part17.rar
http://extabit.com/file/279ob3ae2gksp/SHOAH.part18.rar
http://extabit.com/file/279ob3ae33bgp/SHOAH.part19.rar
http://extabit.com/file/279ob3ae2gkuh/SHOAH.part20.rar
.
8 Responses to this entry.
1. jakkuzz Says:
February 18th, 2013 at 1:06 am

Sir,

Links #1,2 and 6 are not available. Can you please upload it again?

Many Thanks!

2. maxdugan Says:
February 18th, 2013 at 1:29 am

Hello Jakkuzz, the extabit links are temporarily unavailable, so are hundred of files on extabit, unfortunately we cannot do anything about it, re-uploading wont help since it has the same title, kindly email extabit and complain about it, OR you can download the links from Rarefile since the links are interchangeable, thank you very much.

3. Pepere Says:
March 8th, 2013 at 6:18 am

Max, with all due respect, tell us right off the bat the whole works is in French.

I know the files have English subtitles, but I have no program to insert them into the files.

Huge download took hours and hours, extremely disapponting. Can't you say in the heading the thing is in French with subtitles that aren't imbedded?

XtoDVD can't import the .sub files. Any suggestions?

And don't get me wrong, you'll always be my homepage…..

4. maxdugan Says:
March 8th, 2013 at 5:55 pm

Hello Pepere, im very sorry for my major oversight, i should have indicated that the movie is in french with english subtitles, with regards to burning it to a dvd, i use convertxtodvd and 1click dvd copy pro which are all available on the site, thank you very much and my most sincere apologies

5. Jack77 Says:
January 10th, 2014 at 12:45 am

Thanks so much for putting this up Max! Will download as soon as I can!

6. maxdugan Says:
January 10th, 2014 at 1:57 am

Thank you very much Jack77

7. Ola Says:
May 4th, 2015 at 2:02 am

All the rarefile links are still working. All 5.25 GB worth downloading. I saw this documentary years ago while still in school – shocking.
Your time and effort is highly appreciated, Maxdugan. Thank you for the share.

8. maxdugan Says:
May 4th, 2015 at 2:21 am

Thank you very much Ola
Leave a Reply