| | |
| --- | --- |
| | IMAX Fighter Pilot – Operation Red Flag DVDRip AC3 |
A state-of-the-art, edge of your seat experience! Get in the cockpit with the world's best pilots to witness the most challenging flying of their careers… Follow a young American pilot as he makes his way through Red Flag – the world's most intense, simulated air war, training event – where U.S. and international pilots, ground crews, mechanics and rescue personnel are taken to the limits of their endurance.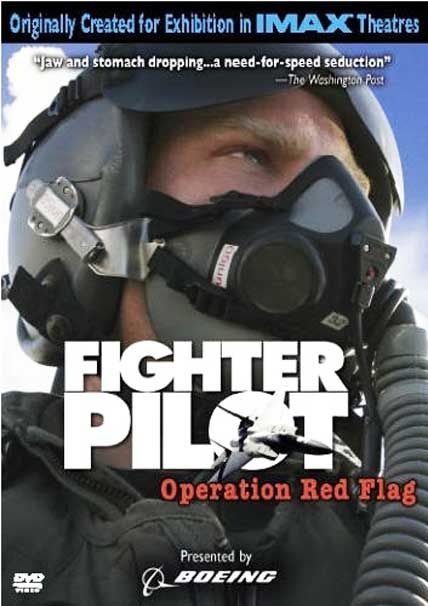 Fighter Pilot: Operation Red Flag delivers speeds of up to 800 miles per hour with thundering, roaring, screaming sound and stunning aerobatics that will blow you away! Filmed over the Nevada desert with unprecedented access to military procedures, the film features an enormous armada of aircraft including four American squadrons of F-15C Eagles and F-15E Strike Eagles, F-16 Aggressors, Stealth F-117s, B-1B Lancers, B-2 Stealth bomber, C-17 Globemaster III, a U-2R and more… This DVD version of the film has been specially mixed and mastered to produce an outstanding DTS Digital Surround and Dolby Digital 5.1 home theatre experience.

Captain John 'Otter' Stratton is a young American fighter pilot who flies the F-15 Eagle, arguably the most potent and successful fighter plane ever built. He was eight years old when he decided to become a pilot. It wasn't a tough decision — his grandfather was awarded three Distinguished Flying Crosses and 11 air medals as a fighter pilot in the Second World War. As far as John was concerned, his grandfather had won the war all by himself in his beautiful blue Corsair. His grandfather was a hero and he intended to follow in his footsteps.
At Red Flag, the international training exercise for the air forces of allied countries, hundreds of pilots meet for the most challenging flying of their careers. Red Flag is the final tune-up training for pilots and their crews before being sent into actual combat. The object is to make the exercises as real and challenging as possible — to take the pilots, ground crews, mechanics, rescue personnel, etc., to the limits of what they can handle.
We follow our young pilot as he makes his way through this extraordinary event held in the desert of Nevada. He is amazed at how complex, confusing and dangerous the exercises are.
He also begins to notice team members who were absent from his childhood vision of heroism. There are people who work all night rebuilding engines and re-installing them into his aircraft so he can keep flying and training. There are people who rise at four-thirty each morning to scour the runways for tiny pebbles that can get sucked into engines and kill pilots. There are people who practice rushing into a flaming mockup of a crashed aircraft so if there is a real accident they will be ready to save the pilot. In the flying exercises, John realizes there are other pilots who aren't just out to prove themselves — they are helping him — watching his back, taking personal risks to cover his mistakes. And he is doing the same for them.
He begins to think that being a hero is not quite as simple as he once believed. Captain John Stratton has gone on from Red Flag to serve three combat tours over Afghanistan and Iraq. Although he has seen much sacrifice and courage from other fighter pilots during his years in the Air Force, the extraordinary people he remembers are not just the pilots, but the whole team supporting from the ground as well as the entire USAF Air and Space Force.
Now, as Stratton reflects from the cockpit of his F-15, squinting out into the evening light across the vast blue sky, his wingman aboard an F-15 Eagle vanishes for a moment, and in his imagination another aircraft flies beside him. It is a beautiful blue Corsair, a glowing phantom from another age.
.
http://www.rarefile.net/t7wk2hdx6inu/FighterPilot.part01.rar
http://www.rarefile.net/z8ul5c64anej/FighterPilot.part02.rar
http://www.rarefile.net/39asrzx48iak/FighterPilot.part03.rar
http://www.rarefile.net/wj7hkx0c1qjx/FighterPilot.part04.rar
http://www.rarefile.net/50696urx7iob/FighterPilot.part05.rar
http://www.rarefile.net/j4ua2r7cwr1y/FighterPilot.part06.rar
http://www.rarefile.net/zzpq4ac75klf/FighterPilot.part07.rar
http://www.rarefile.net/y05w90f0zj1r/FighterPilot.part08.rar
.
Leave a Reply