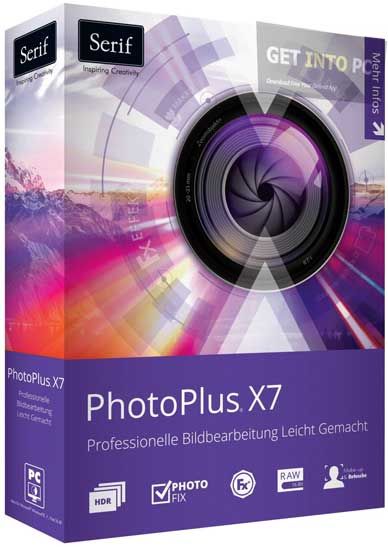 Create photos like a professional with the easy to use tools and features in PhotoPlus X7. Remove all imperfections in a flash, add stunning artistic effects, enjoy amazing colour control, restore classic photos and much more in a powerful editing studio that's perfect for professional photographers, enthusiasts and beginners alike. PhotoPlus X7 offers complete photo editing for one unbeatable price.
Amazing colour control
At the heart of PhotoPlus X7 is the new Lab Colour Mode; a more comprehensive colour engine that offers a greater spectrum of colours as you edit. Designed to match how the human eye sees, Lab Colour Mode separates colour and lightness, allowing you to alter colours in your photos without affecting contrast and vice versa.
Editing photos in Lab Mode helps your edits look far more natural so you can achieve amazing results fast! Remember you can still switch to RGB mode whenever you like.
Intuitive lens corrections
Don't let lens distortions spoil the perfect picture ever again! The new Lens Correction feature allows you to remove distortions, vignetting and fix chromatic aberration, all in a couple of clicks. You can also straighten your images and correct vertical and horizontal lens perspective problems with the on-screen alignment grid for easy control.
Artistic style effects
Use the new Halftone Screen to add new effects to your photos. The new filter in PhotoPlus X7 allows you to add line screen and circular screen styles for stunning pattern effects.
Protect photos as you edit
Use a new smart brush to protect certain areas of your photo as you edit in PhotoFix and use a new gradient mask to add depth and style, for more interesting designs.
Crystal clear clarity
Enjoy the improved Clarity Filter; perfect for your individual or family portraits. Use this clever tool to smooth skin tones without losing the fine detail and clarity in the hair and eyes of your portrait. As the Clarity Filter is contrast aware, you'll never lose the tonal quality of your original photo.
Advanced repair tools
The improved Clone Tool allows you to copy a section of an image and brush over marks, creases, tears and unwanted objects in your picture with more precision than ever before. You can even use the advanced live preview for a live before and after view of the area you're cloning.
New blend modes, great effects
PhotoPlus X7 features three new blend modes to add to your creative toolkit. Use the new Vivid Light, Hard Mix and Pin Light modes to increase colour contrasts, add vintage styles and increase and decrease light and dark areas and help your photos stand out more.
Have fun with warp edits
The dedicated Warp Studio allows you to correct your photo portraits and add striking effects. Use the grid to position your warps precisely and create interesting imagery. You can also protect a certain aspect of your image, for example the eyes, as you edit the rest of your photo.
Improved Raw compatibility
The Raw studio is more compatible than ever with many more modern DSLR cameras.
http://www.rarefile.net/js1ky29f6xjy/Serif.PhotoPlus.X7.rar
.