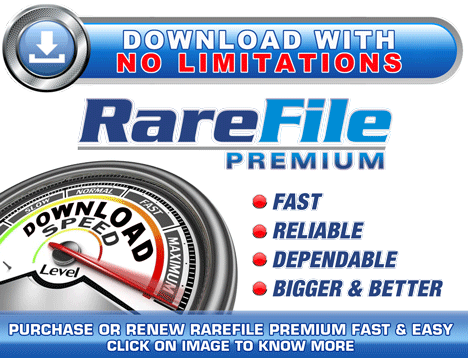 IF YOU DO NOT HAVE AN ACCOUNT WITH RAREFILE YET, PLEASE CREATE A FREE ACCOUNT FROM THIS LINK:
FOR EXISTING RAREFILE PREMIUM ACCOUNT HOLDERS, PLEASE LOG-IN TO YOUR ACCOUNT.
AFTER REGISTERING, YOU CAN PURCHASE OR RENEW USING THIS LINK:

IF YOU ENCOUNTER ANY PROBLEM, LEAVE A COMMENT HERE. RAREFILE SUPPORT WILL REPLY TO YOUR COMMENT.
OR YOU CAN ALSO EMAIL THEM AT CONTACT@RAREFILE.NET
IMPORTANT NOTE:
PLEASE CHECK YOUR SPAM OR JUNK EMAIL FOLDERS, THE PREMIUM KEY MIGHT HAVE ENDED UP THERE. THANK YOU VERY MUCH.
———————————————————————————————-
FOR PHILIPPINES RESIDENTS WITHOUT A CREDIT CARD
FIRST – PLEASE REGISTER FOR A FREE RAREFILE ACCOUNT USING THIS LINK:
THEN YOU CAN PURCHASE EASILY FROM RAREFILE PHILIPPINES

.