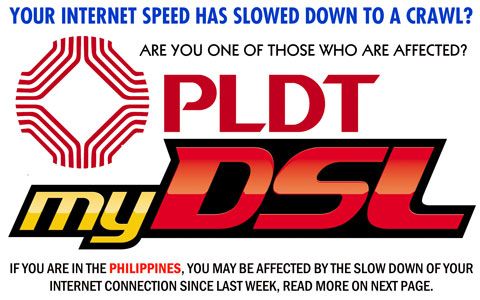 FOR PHILIPPINE PLDT DSL SUBSCRIBERS ONLY!
WEBSITE LOADING VERY SLOW? YOUTUBE VIDEOS WILL NOT STREAM? DOWNLOADING VERY SLOW? FACEBOOK PAGE WONT LOAD? IMAGES WONT LOAD?
YOU ARE NOT ALONE. ALMOST THE WHOLE PHILIPPINES IS SUFFERING FROM THIS SINCE LAST WEEK.
THIS IS THE OFFICIAL NEWS UPDATE FROM PLDT PHILIPPINES:
PLDT to subscribers: Expect slow broadband speeds after one of three int'l cables suffers cuts
(Click to read the update)
You can also read other complaints and updates at:
According to a reliable PLDT source, this problem should be fixed within this week, lets all hope that this is true.
If anyone has an update or news, please post your comment. Thank you very much.
.