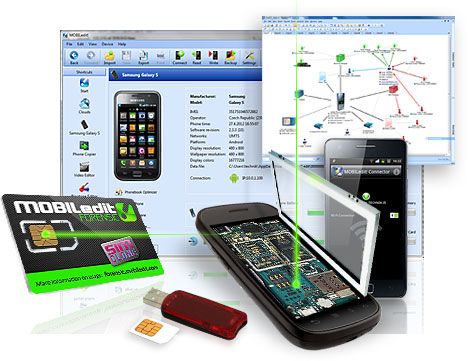 MOBILedit Forensic supports thousands of different phones including common feature phones from manufacturers like Samsung, HTC, Nokia, Sony, LG and Motorola. It also supports all smartphone operating systems including Android, iPhone, Blackberry, Symbian, Windows Mobile, Windows Phone, Bada, Meego or Mediatek (Chinese phones).
MOBILedit! Forensic Features
Product Highlights
• Analyze phones via USB cable, Wi-Fi, Bluetooth or IrDA
• Analyze phonebook, last dialed numbers, missed calls, received calls, SMS messages, multimedia messages, photos, files, phone details, calendar, notes, tasks, SIM cards, applications, application data including those deleted (coming soon) and more
• Support for Android, iOS, Symbian, Blackberry, Windows Phone, Windows Mobile, MediaTek, Bada, MeeGo and other feature phones covering more than 3000 fully tested devices
• Complete driver pack with device drivers for all major phone manufacturers included
Full Phone Status Information Displayed
• Picture of the phone
• Name of the phone, manufacturer and model
• IMEI
• Signal strength, battery status
• Current network operator, connection type, hardware and software revision
• Remaining storage space
• Phone display resolution
• Phone platform/OS
• Copy IMEI and other information to clipboard with just a double-click of the mouse (coming soon)
Powerful SIM Analyzer
• Direct SIM analysis using SIM card readers
• Access to SIM card status information (IMSI, ICCID, LAI, PIN, PUK, call costs)
• Acquire ICCID without knowing the PIN number
• Extract Location Area Information/Identity
• Retrieve SIM phonebook, sent-received-draft SMS, call log
• PC/SC SIM card reader support
• Support for the connection of multiple readers
• Reads deleted messages from the SIM card
• Review and export of SIM card applications (coming soon)
Full Text Search of Phone Models
Quickly find any phone in our comprehensive online database. Just enter any part of the name and you will immediately see a complete list detailing supported features for the selected device along with the compatible data cables supporting this device and its position in our Connection Kit. If you are not sure about the model number of your phone, the picture will help you to identify the right one.
The Ultimate Built-in SIM Clone Tool
With this tool, you will no longer need obsolete and unreliable Faraday bags. You can clone original SIM card of the phone beinginvestigated even without knowing the PIN or create new SIM cards with any ICCID or just format your SIM card to renew for the next use. You are also able to connect multiple SIM card readers at the same time.
• Clone and copy SIM
• Modify SIM (ICCID, IMSI)
• Create custom SIM (ICCID, IMSI)
• Format SIM for data removal
• Support for connection of multiple readers
Report Generator
• Create report with a single click
• Create your own customized template and translate it into your language
• Print reports ready for the courtroom
• Make a backup now and generate reports when you need them
• Manual investigation mode
• Secure and tamper-proof through the use of MD5 or SHA-512 hash ensuring evidence is properly preserved and compliant for presentation in the courtroom
• Compliant with Word or any other RTF editor
• View formatted reports in your web browser including original pictures
• Exports to Word, Excel/XLS, web browser, XML/XSL
• Exports are optimized for use in advanced analysis software such as i2 or Tovek and the addition of further software support is under constant development
Physical Extraction of Phones and Memory Cards
• Physical extraction for Android phones
• Built-in tool for low level physical acquisition of digital media, such as memory card, flash memory and hard disk
• HEX Dump plug-in optimized for ultra large files of any size
Extensive Support for Android Devices
• Connect Android phones through Wi-Fi using the special forensic version of the connector app
• Access an application's media and user files
• Complete support of accounts. Filter contacts according to their sources including Exchange, Facebook, Gmail or Skype
• Physical extraction available
• List of installed Android applications (coming soon)
• Make a screenshot of the current phone display (coming soon)
Extensive Support for iOS Devices
• Application data extraction from apps in stalled on the device
• Deleted contact and deleted message extraction
• Analyze and browse an iTunes backup
• Direct logical extraction for iOS (without iTunes installed)
• Support for imported keys from a computer where the device was previously synced which can allow bypassing of the passcode (coming soon)
• Support for decrypted iTunes backup (coming soon)
• List of iOS applications installed on the device (coming soon)
Cases Plug-in for Searching and Analyzing Data
• Create a case with an unlimited number of previously extracted phones
• Full text search across an entire case in contacts, messages, calls, calendars, notes and files
• Advanced search with support for wildcards
• Easy-to-browse structured data folders
Connection Kit Including USB Cables for All Supported Phones and a Complete SIM Cloning Package
• More info here
What's New in MOBILedit Forensic 7.5 Released
This revolutionary redesign improves the entire phone data extraction workflow and adds new features that expand the possibilities of forensic investigation overall.
Version 7.5 Highlights:
• Completely new design for easier and faster use
• Extremely fast logical extraction of deleted items on iOS
• Windows Phone 8 supported
• Quick application data extraction on iOS and Android
• Intelligent device recognition and USB driver install feature for trouble-free connection
• Hundreds of phones added
• Watch a short video
New 2-way logical iOS extraction that is much faster than physical
• Analyze data from encrypted iTunes Backup (when you know the encryption key)
• Analyze live iOS device directly (access deleted data without using the encryption key)
• Bypass the passcode on iOS using the keylock files method
• Application data extraction including deleted data
• Get a list of all applications that are installed in a device
• Latest iOS 7 supported
Extraction from Android devices now goes much deeper
• Extract and analyze Android application data
• Get a list of all Android applications (APK)
• Create a screenshot of the current phone display (even without connector app installed)
• Android Jellybean 4.3 OS supported
Enhanced SIM Analyzer with SIM cloning feature, the best in the market
• Review and export SIM card applications
• Extract Location Area Information/Identity
Completely redesigned 'Cases' plugin that lets you quickly search across all extracted phones
• Organize data acquired from search more easily and efficiently
• Support for wildcards in search module
• Export searched content with a single click
• Drag 'n drop any 'Sources' items in the 'Cases' folder to reorder the subfolders
New folders added which filter out irrelevant system files
• New 'Media' folder includes all media files divided into photos, recordings, videos etc.
• New 'User files' folder contains files from applications that have been created by the user or downloaded from the internet
• These additional folders allow for quick and easy selection of what to export which will save time when creating a report of the file system.
Newly intuitive phone connection process means no more hassles when connecting a phone
• Media Mode (MTP) detection advising you of further steps for correct logical connection
• Incorrect driver detection and repair system – automatically updates to the correct driver
Other smaller but important enhancements that will save your precious time
• Copy IMEI to clipboard with just a double-click
• Copy all device details to clipboard with a single-click
• Export data with no more than two clicks
• See a nice picture of the position in the kit of the correct USB cable
• New Portuguese RTF template included
• Data export improved, XML, XLS and RTF exports produced more quickly
• HEX viewer improved
Hundreds of new phones added including support for Windows Phone
• See the full list of tested phones
http://www.rarefile.net/atrr3eif0n9h/MOBILedit.Forensic.v7.5.1.4181.rar
.
http://dizzcloud.com/dl/162c7qj/MOBILedit.Forensic.v7.5.1.4181.rar
.