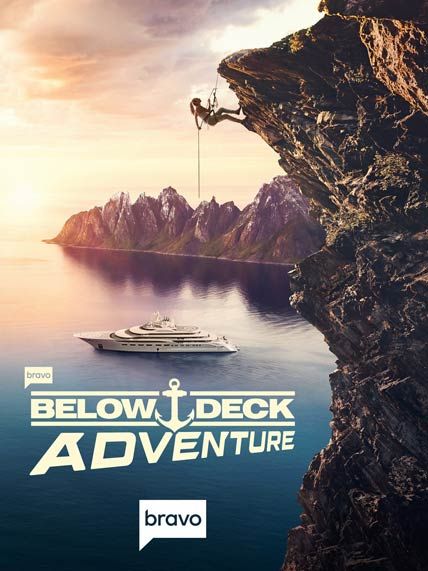 Feature wealthy thrill seekers as they get into all sorts of adrenaline-pumping activities on their luxury yacht vacation.
Season 1, Episode 01 – "Mercury Rising"
Faye joins Mercury Yacht Mercury as chief stew with experience from all over the world as a former businesswoman, but when she finds out her team of stews know each other, she worries how their past will serve the interior.
Season 1, Episode 02 – "Viking Cowboy"
The first adventure of the season sends the charter on a caving expedition, but it's Kyle who ends up digging himself into a hole by flirting with Kasie in front of guests.
Season 1, Episode 03
Lewis warns Kyle that his bad behavior has Capt. Kerry on high alert; when the Mercury engines fail, Kerry has to rely on his young deck crew to executor a precarious docking.
Season 1, Episode 04
As the Mercury team prepares for their next charter, Capt. Kerry notifies the crew he asked Kyle to resign; pressures rise for both the interior and exterior team as they are drowning in extra duties; Capt. Kerry lends a hand to the deck crew.
Season 1, Episode 05 – "Under the Bubbles"
After Jess burns herself, Captain Kerry lends a hand to prepare a five-star picnic for the guests' excursion; Nathan leads guests on an epic biking adventure; Lewis faces the pressure of being a man down for another charter.
Season 1, Episode 06 – "(The Real) Yacht-Wives of Norway"
While on anchor watch, Nathan goes to bed before handing the shift over, leaving the boat unattended; in the galley, Oriana struggles to keep up with the pace of breakfast; a misstep leaves the exterior at risk of losing yet another deckhand.
Season 1, Episode 07 – "Aye, Aye, Captain Deckhand"
The battle between the teams continues when Mike misses a call; Jess experiments with a dessert she's never made before; communication issues cause problems on deck for Lewis just as his new deckhand arrives; Faye sets her sights on the new guy.
Season 1, Episode 08
New deckhand Seth finds cracks within the leadership of his department and claims he could run it better; a plate mix-up causes problems at a viking Oktoberfest-themed dinner; Faye takes the guests paragliding.
Season 1, Episode 09 – "Can't A-Fjord to Lose"
Faye orders the team back to the picnic field to fulfill the guests' request for an afternoon of games; Lewis triumphs with an obstacle course; Seth approaches Captain Kerry about replacing Lewis; the crew is rewarded with an adventure.
Season 1, Episode 10 – "Abseiling Away"
Tension between departments leaves Faye fed up; Capt. Kerry mentors Lewis in the wheelhouse; misconduct on the radio upsets the captain and thrusts Lewis back on deck; Kasie makes a plan with Jess to do a room swap.
Season 1, Episode 11 – "Zero Fjords Given"
Guests find hair in their food; chips go missing at the abseiling picnic; Faye's attempts to hide the hair issue from Capt. Kerry end in disaster; Capt. Kerry attempts to outrun bad weather; Kasie and Mike get closer.
Season 1, Episode 12 – "Crazy Rich Charter Guests"
Tension grows higher as the season gets shorter on Mercury when Faye and Jess disagree on how much food should be packed for the horseback riding adventure.
Season 1, Episode 13 – "The Long Fjord-Bye"
After Kerry calls out her intimidating behavior, Jess makes a decision on whether or not to leave the Mercury; Faye faces her toughest test yet when she has to model the primary's dress at a photo shoot; Seth confronts Kasie.
.
http://www.rarefile.net/31x8i9rqhe88/BelowDeck.Adventure.S01E01.mkv
http://www.rarefile.net/iyy3ec760or1/BelowDeck.Adventure.S01E02.mkv
http://www.rarefile.net/1sb1ofuoxrvd/BelowDeck.Adventure.S01E03.mkv
http://www.rarefile.net/k69v8l87dgrq/BelowDeck.Adventure.S01E04.mkv
http://www.rarefile.net/xegx1ifmvzlj/Below.Deck.Adventure.S01E05.mkv
http://www.rarefile.net/o5yew7137r1j/Below.Deck.Adventure.S01E06.mkv
http://www.rarefile.net/8m16m4dwp244/Below.Deck.Adventure.S01E07.mkv
http://www.rarefile.net/sg6qwyhitskl/Below.Deck.Adventure.S01E08.mkv
http://www.rarefile.net/1q629ei0psy9/Below.Deck.Adventure.S01E09.mkv
http://www.rarefile.net/bbkv0htokbf8/Below.Deck.Adventure.S01E10.mkv
http://www.rarefile.net/3gg85plma7wu/Below.Deck.Adventure.S01E11.mkv
http://www.rarefile.net/tonpcai23iv4/Below.Deck.Adventure.S01E12.mkv
http://www.rarefile.net/bxbuzdzz3k05/Below.Deck.Adventure.S01E13.mkv
.