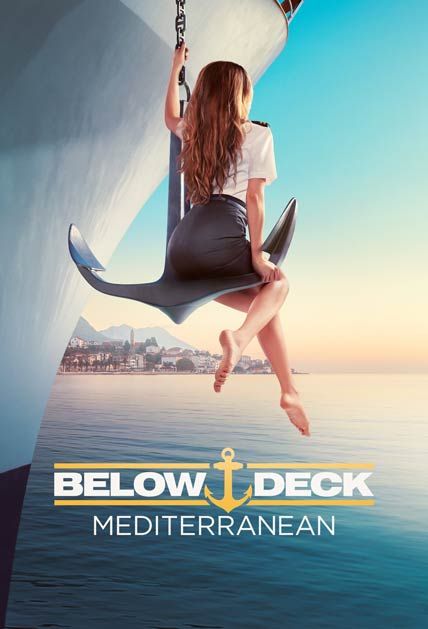 With a new boat, new location, and new faces, the excitement, drama, and adventure of life aboard a private luxury yacht is taken to another level in the Mediterranean. Providing unparalleled service to wealthy and uncompromising guests is made even more difficult as the team faces everything from love triangles to seeing fellow crew members shockingly cross the line with guests. Voyaging from Santorini, Mykonos, and many of the Greek islands, each episode features a new group of elite clientele who present a new set of challenges, all while offering the crew a glamorous lifestyle and exotic perks that most people only dream of experiencing. For these young, attractive, and adventurous yachties, the "work hard, play harder" nature of the job combined with the pressure of working in the most exclusive yachting scene in the world pushes the team close to the breaking point on Below Deck Mediterranean.
Season 7, Episode 01 – "There's No Place Like Home"
Captain Sandy kicks off another charter season in the Mediterranean.
Season 7, Episode 02
A new boat, crew and location in this series that follows nine members of a crew who live and work aboard a 150-foot yacht. As the ship journeys through the Mediterranean, each episode features a new group of elite passengers.
Season 7, Episode 03 – "A Whole Yacht of Scandal"
Two yachties must confront their complicated past as Natalya pressures them about the status of their relationship; after a night of letting loose, a crew member on the exterior is worse for the wear, forcing others to pick up the slack.
Season 7, Episode 04 – "Skeletons in the Cabin"
The chef and Chief Stew have an icy stand-off; the guests are disappointed when incoming weather forces the boat back to the marina; Capt. Sandy is faced with a shocking career first after a crew member makes a mistake during the docking.
Season 7, Episode 05 – "Break-ups and shake-ups"
Capt. Sandy makes a critical decision that impacts the deck team; after the second charter comes to an end, the crew has an eventful night out; two crew members' relationship takes a tumultuous turn, causing Capt. Sandy to intervene.
.
http://www.rarefile.net/7i8u16m5xmc7/Below.Deck.Mediterranean.S07E01.mkv
http://www.rarefile.net/k1dvg1ddfk27/Below.Deck.Mediterranean.S07E02.mkv
http://www.rarefile.net/c8i561wenagi/Below.Deck.Mediterranean.S07E03.mkv
http://www.rarefile.net/j2yk5fespyzk/Below.Deck.Mediterranean.S07E04.mkv
http://www.rarefile.net/zbdp8rqmmqdh/Below.Deck.Mediterranean.S07E05.mkv
.