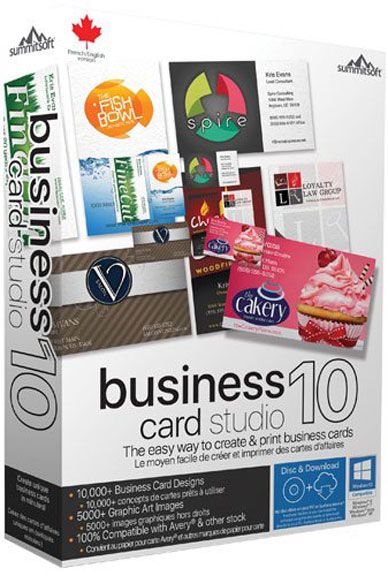 Business Card Studio Deluxe – Create a professional business card in 3 easy steps. It only takes a few steps to create a great looking business card: 1) Choose It: Select your card style from 10,000+ pre-made designs or create your own from scratch. 2) Change It: Personalize your selected card with your own information, change out graphics, and add new text, images and logos. 3) Print It: Easy at home printing or send your design to a professional printer.
Millions of unique results
You will find professionally designed pre-made cards perfect for you – no matter what industry, profession, service or product! And all of the added tools allow you to create the perfect unique card for you. Only Business Card Studio has Auto-Design Card Wizard for unlimited professional concepts.
Create a professional image
In today's business, image is everything. Let Business Card Studio create elegant business cards for you. Choose an business card template and utilize the layout editor to change the position of the name, address, and other info. You can also change colors, alignment, background, logo, and much more. You can completely customize the look and feel of your business cards, easily.
Auto Concept Generator
Don't know where to start? Business Card Studio 10 combines the revolutionary ACG (Auto Concept Generator) and 3D Text Studio, giving you design options never before available in any business card software. After you input your name, title, business name, and other data, ACG generates and unlimited number of business card variations.
Flexible tools & creative options
Over 1000 incredible fonts perfect for business cards and 5000+ graphic art images will make your card stand out among the others. Business Card Studio allows you to create vertical, horizontal, 2-sided, magnet, custom shapes sizes, and more. You can also create matching letterhead & envelope concepts based on your business card design.
Eye-Catching Business Cards
Give your cars stunning 3D text effects that really catch people's attention! Use 3D Text Studio with any fonts to create impressive 3D business cards and more.
Not just for Business Cards
Easily create matching letterhead and envelopes based on your business card design.
10,000+ Business Card Designs:
Choose a template for any industry or create your own design, millions of possibilities!
– Arts & Entertainment
– Business & Finance
– Cleaning & Repair
– Construction
– Florists & Nurseries
– Food & Beverage
– Child Care
– Lawn & Landscape
– Pets
– Real Estate
– Retail
– Sports & Leisure
– Technology
– Travel
– and more!
Hundreds of features for unlimited options!
– 1000+ & OpenType® Fonts: Includes professional, high quality fonts
– 5,000 + Objects & Backgrounds: Professionally designed for any industry or interest
– Matching Letterhead & Envelopes: Creates matching letterhead and envelope concepts based on your business
– Special Effects: Create unique eye-catching results with shadow, blur, frame and emboss techniques
– Us your own logo or images in any format
– Preview before You Print: Business Card Studio (boxed version) offers free smooth-edge business card paper to print your concepts or final cards so you can see exactly what they'll look like before you have them professionally printed
– Step-by-Step Wizard: makes business card creation simple and straight forward; no need to take design classes or learn complicated commands
– Easy Editing: Once you have decided upon a business card concept, Business Card Studio allows you to put all of the finishing touches on your new card, ensuring perfect results
Export for Professional Printing:
– Easily export your cards in the most popular file formats to send to a commercial printer. Business Card Studio supports most common file formats including JPEG, BMP, PNG, EMF, WMF, TIF, GIF, ICO & PDF formats up to 1200 dpi
– Works with Avery Card Stock and other brands of business card stock, & or you can simply enter custom sizes for other stock
What's New in Business Card Studio 10:
– Adjust colors & transparency
– Add logo-like graphics
– Apply special effects
– Maintain precise alignment
– Rotate, scale and flip text or graphics
– Outline, projective and circular text
– Insert and edit shapes
– Import pictures into text or graphics
– Add background images and colors
– Full layer control of your card design
http://www.rarefile.net/cx3tfqmwclvh/Business.Card.Studio.Deluxe.5.0.2.part1.rar
http://www.rarefile.net/8z9p1gwf2jff/Business.Card.Studio.Deluxe.5.0.2.part2.rar
.