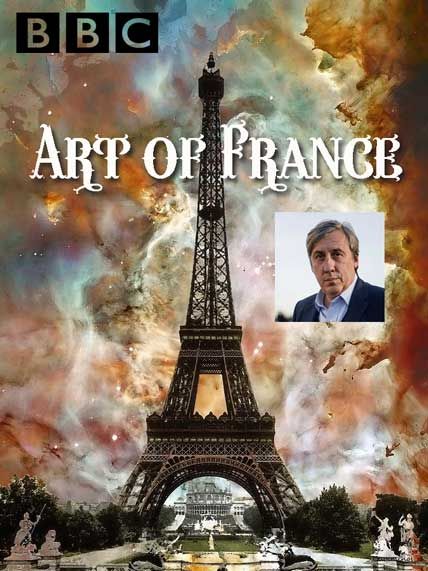 Andrew Graham Dixon takes viewers on a stunning visual journey through French art history.
Episode 01 – Plus La Change
Art historian and critic Andrew Graham-Dixon opens his latest series with the dramatic story of French art, a story of the most powerful kings ever to rule in Europe with their glittering palaces and astounding art to go in them. He also reveals how art emerged from a struggle between tradition and revolution, between rulers and a people who didn't always want to be ruled.Starting with the first great revolution in art, the invention of Gothic architecture, he traces its development up until the arrival of Classicism and the Age of Enlightenment – and the very eve of the Revolution. Along the way some of the greatest art the world has ever seen was born including the paintings of Poussin, Watteau and Chardin, the decadent Rococo delights of Boucher and the great history paintings of Charles le Brun.
Episode 2 – There Will Be Blood
Andrew Graham-Dixon explores how art in France took a dramatic turn following the French Revolution that ushered in a bold new world. From the execution of King Louis XVI and the rise of Napoleon Bonaparte – a figure who simultaneously repelled and inspired artists of his time – through to the rise of Romanticism and an art of seduction, sex and high drama, Andrew explores artists including Jacques-Louis David – whose art appeared on the barricades and in the streets – as well as the work of Delacroix, Ingres and the tragic but brilliant Theodore Gericault.
Episode 3 – This is the Modern World
In the final episode, Andrew begins with the Impressionists. He plunges into one of the most wildly creative periods in the history of art, when France was changing at a rapid pace and angry young artists would re-invent how to paint, finding their muses in the bars, brothels, and cabarets of Belle Epoque Paris and turning the world of art on its head. Monet, Degas, and friends launched a febrile conversation about the role of painting in the modern world that would pave the way for just about every modern art movement of note, from the Cubists to the Fauves, from the Surrealists to the Existentialists and from conceptual artists to the Abstract Expressionists.
http://www.rarefile.net/1g02bpme9xpo/ArtofFrance.Part1.Plus.Ca.Change.mp4
http://www.rarefile.net/5si99gikdel3/ArtofFrance.Part2.There.Will.Be.Blood.mp4
http://www.rarefile.net/fud3xhvy73p4/ArtofFrance.Part3.This.is.the.Modern.World.part1.rar
http://www.rarefile.net/e3wp79ox1ccr/ArtofFrance.Part3.This.is.the.Modern.World.part2.rar
.