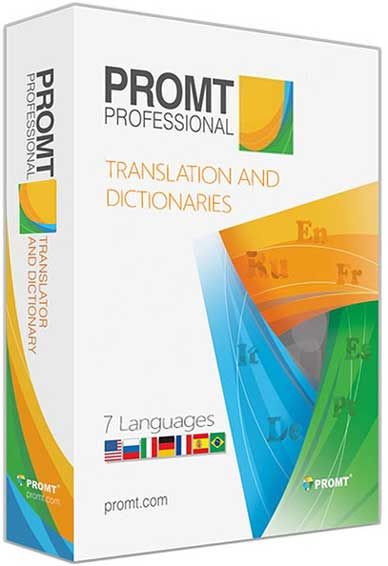 PROMT Professional is a business-level translator for professional, scientific, or educational activities. With PROMT Professional you can quickly obtain high-quality translations of documents, Web sites, or emails. With this program you don't need to waste your time searching for a proper word in dictionaries, it is possible to load the text entirely and to get smooth translation and also full information for separate words and phrases.
Full Functionality in Offline Mode
To work, this program does not require an Internet connection. Install the translator on your computer, notebook, or tablet, and you will be able to use the program anywhere, anytime.
Save Time and Resources!
Letters, scientific articles, legal agreements, tables, presentations – all the documents you need for work, you can read in the native language or instantly translate for your friends and partners. Modern PROMT technologies and up-to-date dictionary bases guarantee a high quality of translation.
Safety of Confidential Information
When you translate in a web service, there is a risk of exposing important information to the Internet. If you use PROMT Professional 12, your information will be secure because all translations and document processing will be expressly contained on your computer.
Usability
Translate directly in the application you are using with our new revolutionary PROMT Agent function! Simply select a word or a text fragment, click a "hotkey", and the resulting translation will appear in a popup window of PROMT Agent. PROMT Agent will help you to be quick on the uptake on any website and view documents instantly! The original language is determined automatically.
Translate Documents with Just One Click!
PROMT Professional 12 can translate documents while preserving the original structure and formatting. This saves a tremendous amount of time because you won't have to reformat tables, diagrams, or images. You get not only a simple translation, but also a ready-to-use document in the native language! Many formats including pdf, doc, docx, rtf, xls, xlsx, ppt, pptx, xml, msg, and html are all supported.
Modern Dictionary
If you need to look up individual words, you will always have access to a dictionary with translation variants and grammatical assistance readily available. You can create your own electronic dictionary, for use either manually or automatically. This feature is very convenient for anyone learning a new language!
Individual Customization
User-friendly settings facilitate more precise translation quickly and easily. You can basically create your own translator!
Features:
– Personal dictionaries: add your own translation of terms and designate your own "do not translate" rules for personalized translation.
– Generally-accepted translation rules for things like grammar construction (for example, translation of modal verbs and proper names) and proper word order, etc.
– Translation bases (Translation Memories): especially relevant for standard documents containing similar information (contracts, technical and legal documentation, instructional manuals, etc.)
What's New:
– The improved translation of news and technical texts
– The major update of specialized dictionaries
– Translation of documents by drag&drop to the PROMT Agent
– Displaying translation variants of the selected word or phrase (in PROMT Agent and PROMT Translator)
– New languages: Arabic, Turkish, Chinese and Japanese for online translation
http://www.rarefile.net/b8unhx93k55h/PromtPRO.18.part1.rar
http://www.rarefile.net/xl1vhyzgv24b/PromtPRO.18.part2.rar
.