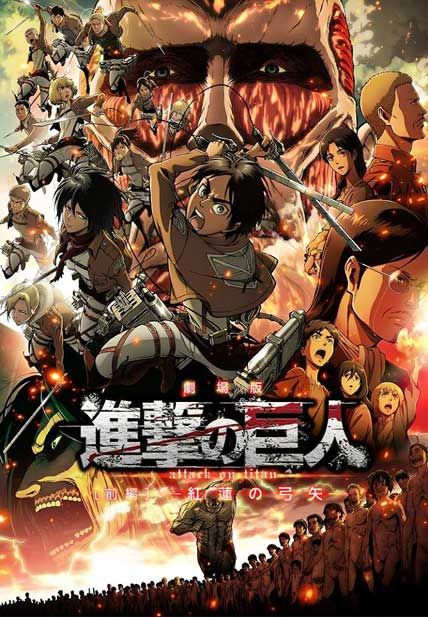 Known in Japan as Shingeki no Kyojin, many years ago, the last remnants of humanity were forced to retreat behind the towering walls of a fortified city to escape the massive, man-eating Titans that roamed the land outside their fortress. Only the heroic members of the Scouting Legion dared to stray beyond the safety of the walls – but even those brave warriors seldom returned alive. Those within the city clung to the illusion of a peaceful existence until the day that dream was shattered, and their slim chance at survival was reduced to one horrifying choice: kill – or be devoured!
IN JAPANESE WITH ENGLISH SUBTITLES
Season 02, Episode 01 – "Beast Titan"
As the encased Annie is taken into custody, Hange and her team discover the Titan sealed inside the walls and Pastor Nick of the Wall Cult appears urging them to cover it from sunlight. After the Titan is covered with sheets, Hange inquires Nick about why there is a Titan trapped inside the walls but he refuses to comply, even when she threatens to kill him. Meanwhile, Erwin is informed that Wall Rose was breached and Titans are roaming inside. 12 hours earlier, the rest of 104th Trainees are stationed on an outpost when Titans are seen advancing from the south. All soldiers are ordered by Mike Zacharius to spread out and inform the nearby villages and the capital about the Titans while he stays behind to halt them. After Mike buys enough time, he prepares to escape as well but is captured by a mysterious Titan covered in fur that is capable of speaking. Not getting any information from Mike, the Beast Titan strips him of his gear and leaves him to be eaten by the other Titans. Back at Stohess, Eren wakes up just before he and Mikasa are warned by Armin about the Titans that appeared.
Season 02, Episode 02 – "I'm Home"
The Survey Corps depart from Stohess to deal with the Titans that appeared inside Wall Rose, and Hange takes Pastor Nick along intending to gain more information from him. Meanwhile, Sasha rushes to warn her father and her village.
Season 02, Episode 03 – "Southwestward"
"I'm sure my family is safe and sound." Shaking off the dread of Titans appearing in his hometown, Conny once again departs. Battle erupts across the land while the mystery of the Titans remains. As the plight worsens, Eren and the others heading for Ehrmich District receive a clue that might reveal the truth.
Season 02, Episode 04 – "Soldier"
The Scouts arrive at Utgard Castle under the cover of night but their rest is cut short by the sudden appearance of Titans. As they fight to defend the ruined castle, Reiner recollects a scene from his past.
Season 02, Episode 05 – "Historia"
The battle for Utgard Castle rages on as Ymir and Christa reveal their past.
Season 02, Episode 06 – "Warrior"
Without finding any damage to Wall Rose, the Recon Corps continues to investigate how Titans appeared inside the walls as the Scouts return to Trost.
Season 02, Episode 07 – "Close Combat"
With the identities of two of mankind's biggest enemies now revealed, Eren and the other Scouts risk their lives to battle the unmasked traitors.
Season 02, Episode 08 – "The Hunters"
Eren's battle with the Armored Titan comes to an abrupt conclusion and the Scouts take time to treat their wounded.
Season 02, Episode 09 – ""Opening"
Emotions run high as Eren desperately tries to escape his captors and the Recon Corps races to retrieve him.
Season 02, Episode 10 – "Children"
The Recon Corps closes in, intent on rescuing Eren before it's too late. But, with sunset quickly approaching, Ymir devises a plan of her own.
Season 02, Episode 11 – "Charge"
The pursuit begins as the Recon Corps battles their way to Eren. But as the Scouts start to take numerous casualties, Erwin executes a risky strategy.
Season 02, Episode 12 – "Scream"
The battle continues as Eren and the Scouts face many hard decisions. Who is the real enemy? What is the war? And what will the future hold for mankind?
http://www.rarefile.net/bt0kc9xqf0dh/AOT.2.01.rar
http://www.rarefile.net/cj986lmhsp0j/AOT.2.02.rar
http://www.rarefile.net/w18xootcfkum/AOT.2.03.rar
http://www.rarefile.net/n5ma0khu575k/AOT.2.04.rar
http://www.rarefile.net/n645c3oe6jlk/AOT.2.05.rar
http://www.rarefile.net/gs14v9wpddnx/AOT.2.06.rar
http://www.rarefile.net/xc7z1mqa49w4/AOT.2.07.New.rar
http://www.rarefile.net/jgk8p9ebx9pr/AOT.2.08.rar
http://www.rarefile.net/d9siihxx7bwu/AOT.2.09.rar
http://www.rarefile.net/029ves9d0h33/AOT.2.10.mkv
http://www.rarefile.net/onwwib0dsjnq/AOT.2.11.rar
http://www.rarefile.net/0je92gcnsux6/AOT.S02E12.mkv
.