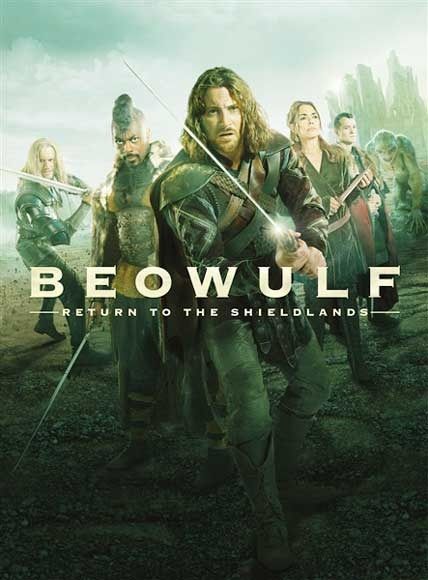 Beowulf is a series about courage, greed, betrayal, revenge, loyalty, power, man versus wilderness and, of course love. It is a series that explores the notion of good and evil, heroes and villains. However, beyond these wider political undercurrents and inner personal turmoils are the excitement, danger and sense of adventure that any great Western has. Epic fights, thrilling chases, raids, celebrations and battles are an essential part of the promise.
Season 1, Episode 1
Beowulf returns to Herot to say goodbye to its leader and his former guardian.
Season 1, Episode 2
With a killer on the loose, the tribal Thanes put on a gathering to elect a new leader of the Shieldlands. Beowulf feels the pressure as he knows he has to catch the perpetrator. Rheda's enemy is closer to home then she first believed.
Season 1, Episode 3
With Slean and Thane Scorann missing, Beowulf and Rate, Thane of the Varni, charge out into the forest in search of them. But with the Gathering fast approaching and Rheda's bid for leadership depending on the hope of ever-loyal Scorann's vote, Beowulf questions whether their disappearance might be more than a simple coincidence. Beowulf and Rate continue their journey, tracking deep into the forest and are soon reminded that the Shieldlands are a dangerous place. Elsewhere, Rheda comes under increasing pressure to find the answers she desperately – whilst another realises the shocking truth of Herot's traitor.
Season 1, Episode 4
It's the day of the Gathering and the future of the Shieldlands is to be decided, as the various leaders gather in the great hall of Herot to choose their new leader. But having lost some of her closest allies, Rheda's chances—and any hope of preventing civil war—are bleak and she may have to fight to preserve her power. Meanwhile, a furious Slean must also make a sacrifice for his mother's campaign and play his part, but in doing so, his loyalties become deeply conflicted. Beowulf and his gang are tasked with a mission to help cement Rheda's position as Jarl of the Shieldlands, and they must make a significant journey. En route, Beowulf's party is ambushed and their mission compromised, with Rheda's leadership hanging in the balance.
Season 1, Episode 5
Beowulf, Elvina, Vishka and Breca continue their perilous journey to Mere to bolster the new treaty, but now without Roth to guide them, the dangers they face look far from over. Anticipating a warm welcome, they're shocked to be met with hostility by aging Thane Gorrik. They are introduced to the tribe and Gorrik's daughters and soon discover a terrible secret, but Gorrik growing suspicious of the Herot party…
Season 1, Episode 6
Slean's intended bride arrives in Herot, but he has other things on his mind than marriage. He cannot forget the ideas his uncle has placed in his mind, and is torn between his loyalty to his mother in spite of the sacrifices she asks of him and his own ambition to seize power for himself.
Season 1, Episode 7
Slean and Abrecan fail to warn Herot about the Wulfing Raider attack as they show up at the peripheries of an unsuspecting Herot and set their Barghest wolves free to terrorise everyone. As the townspeople flea in all directions, Beowulf attempts to save lives in the smelting pits. Rheda agrees to meet an old enemy.
Season 1, Episode 8
Everybody gets ready for Slean and Kela's wedding celebrations. Songs are sung, stories are told and mead is drunk. Some shocking secrets end up being revealed between the couple and they need decide if new loyalties are to be forged or shattered forever.
Season 1, Episode 9
There is danger lurking in every corner which is threatening the Shieldlands and Herot's Huskarla patrol the forests looking for the enemy. Elvina's decision to enter the forests without a guard causes Beowulf to down tools from fortifications and enter the forest after her. Enjoying their newfound romance, the pair become distracted from the threats around them and and up being held captive by some Mudborn creatures.
Season 1, Episode 10
Beowulf grapples with the revelation of Elvina's secret and the fact that he has fallen in love with her. He feels ultimately betrayed and his feelings of conflict are compounded by the news that Slean knew the truth of Elvina's past but loved, and still loves her. Can Beowulf and Elvina survive and close this gulf that now separates them?
Season 1, Episode 11
Rheda returns to Herot on her own, with some news of familial betrayal and that the Wulfing army are coming for everyone. Se sends word hoping for help of the other tribes in the Alliance. Beowulf who knows the Varni appeals to Rheda to put aside her pride and ask for their help despite having banished them in the past.
Season 1, Episode 12
The residents of Heron have to take part in the battle of all battles with Beowulf leading their defence. Slean waits for the troops from the Alliance to arrive, but after only a few, bedraggled Banning warriors show up in Herot for the epic fight, it becomes clear that Slean's efforts could have been in vain.
http://www.rarefile.net/uinu1ajl999t/Beowulf.Return.Shieldlands.S01E01.mp4
http://www.rarefile.net/2scfmhpjwelk/Beowulf.Return.Shieldlands.S01E02.mp4
http://www.rarefile.net/bxd2qushksee/Beowulf.Return.Shieldlands.S01E03.mp4
http://www.rarefile.net/xq2z4g7q0vyh/Beowulf.Return.Shieldlands.S01E04.mp4
http://www.rarefile.net/0xqliisjpkkj/Beowulf.Return.Shieldlands.S01E05.mp4
http://www.rarefile.net/43wj4z0ev8g1/Beowulf.Return.Shieldlands.S01E06.mp4
http://www.rarefile.net/9raeu41tody3/Beowulf.Return.Shieldlands.S01E07.mp4
http://www.rarefile.net/47ys38g0lnqf/Beowulf.Return.Shieldlands.S01E08.mp4
http://www.rarefile.net/i5u10d8dt1ke/Beowulf.Return.Shieldlands.S01E09.mp4
http://www.rarefile.net/mdtgzw4tygi9/Beowulf.Return.Shieldlands.S01E10.mp4
http://www.rarefile.net/ecsmw9k5jluf/Beowulf.Return.Shieldlands.S01E11.mp4
http://www.rarefile.net/zlg3j9sltipg/Beowulf.Return.Shieldlands.S01E12.mp4
.