| | |
| --- | --- |
| | TaiCheng Deluxe Master Kit Video Tutorial + Guides + Food Plans + Journal + Calendars |
Your body can feel younger in just 90 days! Want to rediscover a level of strength and energy you may not have felt in years? Explore a natural approach that can help restore your body's youthful range of motion and help reduce pain naturally. Now there's a simple solution, designed for lifelong activity and real, lasting fitness Tai Cheng!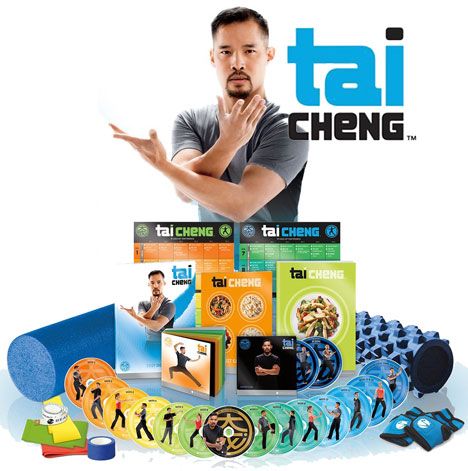 More agility, strength, and mobility!
Tai Cheng includes 12 workout DVDs that will train you in the art of Tai Chi—made easy, thanks to Dr. Cheng's breakthrough teaching technique called Dynamic Motion Control. After even one session of Tai Cheng, you feel less stress, more agility, and increased energy to do the things you want to do.
What is Tai Cheng?
Tai Cheng is the newest and perhaps most comprehensive fitness program. Based on the movements, concepts, and theories of traditional Yang-style Tai Chi, the Tai Cheng workout program was created by Tai Chi master, Dr. Mark Cheng. The Mandarin Chinese translation of Tai Cheng is the "Supreme Accomplishment" in whole body health.
What can Tai Cheng do for me?
The Tai Cheng® workout is based on classical Tai Chi techniques, ancient Qi Gong practices, and modern corrective exercise patterns designed to both rehab and "prehab" the body, as well as improve the body's metabolism, joint function, stress management, and athletic performance!
The Tai Cheng program is a workout that feels good, challenges your body, gives you energy, and can help improve circulation, straighten posture, open your joints, reduce painful trigger points, and promote balance and flexibility to help improve your health as you age.
Who is Tai Cheng for?
Tai Chi and the other ancient modalities within the Tai Cheng® program are made for EVERYONE. This 13-week regimen delivers tremendous benefits, whether you're doing the first-level moves and using the support of a wall, or you're an elite athlete who is looking to improve your athletic performance in safer, more holistic ways.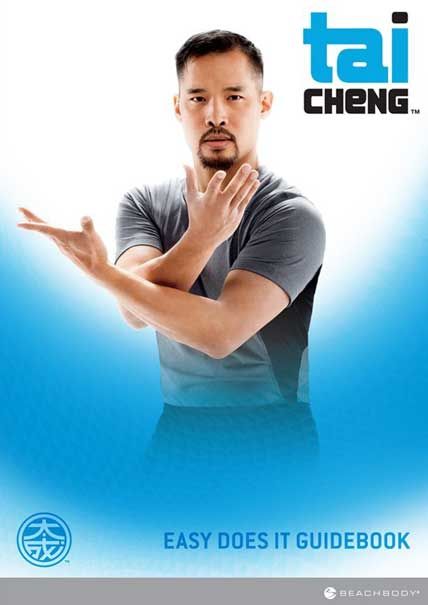 The secret is Dynamic Motion Control
The Tai Cheng workout helps you master the 18 key healing movements of Tai Chi in just 90 days. But we don't think you'll have to wait 90 days to feel the benefits. From your very first workout, you can be on your way to a more active life with less pain. And with more activity comes better overall health!
Easy to follow and easy to master
You can increase strength and help reduce pain and stiffness as you learn the first 6 basic moves of Tai Chi.
Discover how to boost energy and build better balance by mastering the next 6 moves.
Imagine feeling the power of youth reinvigorate your body as you master the final 6 moves and learn to combine them in a single, graceful Tai Cheng® routine.
You have become a Tai Chi master in just 90 days.
Dr. Cheng will take you step by step through all of the Tai Cheng moves you've learned in one graceful, yet powerful sequence. You'll perform it at 3 speeds: slow to challenge your balance, stability, and strength; a moderate pace to get more comfortable with the sequence; and fast, designed to create a flowing healing energy throughout your body.
Learn the ancient practice of Qi Gong breathing exercises and techniques from Dr. Cheng, improve your mental clarity, also learn to get more out of the Tai Cheng exercises. Begin with the "Energizing Series", then advance to "Level 1″ for relaxation and increase the flow of oxygen to your body, and finally "Level 2″, where you can focus on breath control to develop and move energy.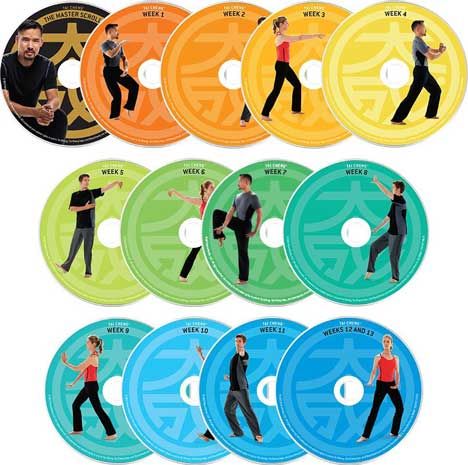 12 Workout DVDs that teach you the 18 essential movements of Tai Chi, plus the Master Scroll "Get Started" DVD
Quick-Start Guide
Easy Does It Guidebook
Feel Better Food Plan
Week-by-Week Workout Calendar
RELIEVE PAIN NATURALLY
Chief Science Officer Dr. Bill Wheeler finally found relief from joint pain with Tai Cheng: "I had almost resolved myself to have knee surgery, but not anymore. I can bend this knee with ease. No pain." — Bill W.
Tai Cheng is a natural solution designed to rid you of many common aches and pains that may be holding you back from living the way you want.
Tai Cheng combines 21st-century fitness science with the centuries-old techniques of Tai Chi to help reduce joint and muscle pain through better muscle control. The result? It's easier to be more active and burn more calories—and that allows you to live better!
The real breakthrough behind Tai Cheng is a rapid learning technique called Dynamic Motion Control®—that teaches you to master the 18 fundamental moves of Tai Chi in just 90 days.
Developed with the help of 21st-century sports science, this surprisingly simple approach to getting quick results is designed to help you start feeling benefits like reduced pain, increased balance and range of motion, and even healthy weight loss in 90 days or less!
You can't drive your car very far with the parking brake on. It's the same for your body when chronic pain or an injury sets your muscles working against one another.
Dr. Mark Cheng—a martial arts master trainer with more than 3 decades of experience in the ancient art of Tai Chi—created his program, Tai Cheng, to train your body to work in harmony, promoting its strength, flexibility, and balance to help improve your health as you age.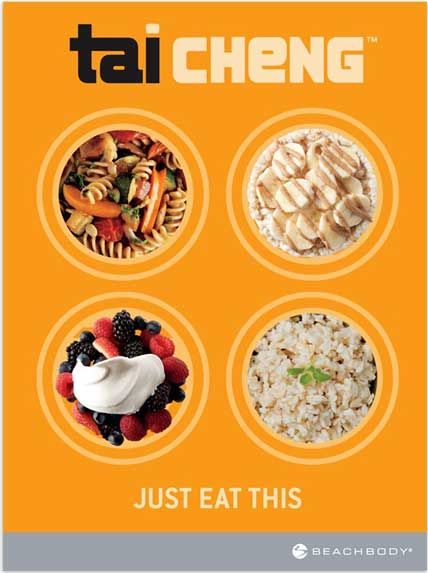 http://www.rarefile.net/dtvo575xrpx1/TCheng.MasterKit.part01.rar
http://www.rarefile.net/jk9ymf583s1b/TCheng.MasterKit.part02.rar
http://www.rarefile.net/gdbxw5wj82ay/TCheng.MasterKit.part03.rar
http://www.rarefile.net/h99psz14kyyd/TCheng.MasterKit.part04.rar
http://www.rarefile.net/qua6fknnht2t/TCheng.MasterKit.part05.rar
http://www.rarefile.net/x7rrnvvay3qp/TCheng.MasterKit.part06.rar
http://www.rarefile.net/uf7x0cbq1y7t/TCheng.MasterKit.part07.rar
http://www.rarefile.net/22ka1mzzivqe/TCheng.MasterKit.part08.rar
http://www.rarefile.net/j0bv8ytfm8fx/TCheng.MasterKit.part09.rar
http://www.rarefile.net/jgy9yrrz2f1u/TCheng.MasterKit.part10.rar
http://www.rarefile.net/cxmqd93bg0vb/TCheng.MasterKit.part11.rar
http://www.rarefile.net/hifmqkkbxe4q/TCheng.MasterKit.part12.rar
http://www.rarefile.net/zu741gbugawt/TCheng.MasterKit.part13.rar
http://www.rarefile.net/d0yvwbqbvxg3/TCheng.MasterKit.part14.rar
http://www.rarefile.net/xmi413myefg3/TCheng.MasterKit.part15.rar
http://www.rarefile.net/siatvkfcc74r/TCheng.MasterKit.part16.rar
http://www.rarefile.net/4mayspn26smk/TCheng.MasterKit.part17.rar
http://www.rarefile.net/ekcbau9k3g4y/TCheng.MasterKit.part18.rar
.
Leave a Reply