| | |
| --- | --- |
| | Renew or Purchase RAREFILE Premium FAST and EASY! |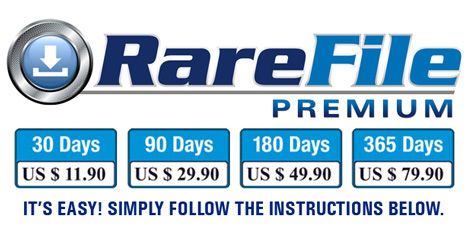 IF YOU DO NOT HAVE AN ACCOUNT WITH RAREFILE YET, PLEASE CREATE A FREE ACCOUNT FROM THIS LINK:
http://www.rarefile.net/free312.html
FOR EXISTING RAREFILE PREMIUM ACCOUNT HOLDERS, PLEASE LOG-IN TO YOUR ACCOUNT.
AFTER REGISTERING, YOU CAN PURCHASE OR RENEW USING THIS LINK:
HTTP://WWW.RAREFILE.NET/PAGES/PPOFFER.HTML
IF YOU ENCOUNTER ANY PROBLEM, LEAVE A COMMENT HERE. RAREFILE SUPPORT WILL REPLY TO YOUR COMMENT.
OR YOU CAN ALSO EMAIL THEM AT CONTACT@RAREFILE.NET
IMPORTANT NOTE:
PLEASE CHECK YOUR SPAM OR JUNK EMAIL FOLDERS, THE PREMIUM KEY MIGHT HAVE ENDED UP THERE. THANK YOU VERY MUCH.
.
54 Responses to this entry.
1. Alves Ardillo Says:
October 19th, 2013 at 11:18 pm

Hi max. Just wanna ask on how to purchase rarefile premium account here in the Philippines?

2. maxdugan Says:
October 19th, 2013 at 11:22 pm

Hello Alves Ardillo, let me email you directly, thank you very much

3. Alves Ardillo Says:
October 20th, 2013 at 3:20 pm

hello max. still waiting for your email. thanks

4. maxdugan Says:
October 20th, 2013 at 5:26 pm

Hello Alves Ardillo, i emailed you last night, let me email you again, thank you very much

5. mike Says:
October 21st, 2013 at 11:03 pm

Hi Max, is there a way to purchase via PP?

6. maxdugan Says:
October 21st, 2013 at 11:27 pm

Hello Mike, yes, kindy click on the link above, then choose the plan you want, click on checkout and you will see the PP option, thank you very much

7. James Says:
October 22nd, 2013 at 12:28 am

Hi Max, what happened to the vendor in the Philippines? I previously renewed mine; it was super fast! How do I reach them for my renewal @ USD $49.90?

8. maxdugan Says:
October 22nd, 2013 at 12:32 am

Hello James, multiply has closed down several months ago, nevertheless, its very easy to renew using the link above, simply choose your plan then click on checkout, you will be able to see the same payment options like multiply before, thank you very much

9. Ennis Scobie Says:
October 25th, 2013 at 7:20 am

Max,
I hope you have the address for me when I get up tomorrow
Thanks,
ESco

10. maxdugan Says:
October 25th, 2013 at 4:03 pm

Hello Ennis Scobie, i had replied to you on three other posts that you had commented. You need to check your account details, kindly login to your premium account at rarefile.net, please take note that the VIP membership is different from your Rarefile premium membership, also check your account details with rarefile, you are the only one who knows your username and password – we dont have any access to your details, also there is no limitation on downloading when you are on premium, thank you very much

11. Ennis Scobie Says:
October 26th, 2013 at 5:28 am

Hi Max,
I'm really sorry about the whole situation but I did go to Onder and left him 3 messages now and have not had no answer yet. when I go to put in my application it tells me that there is already somebody with that same UN, PW and the same code. I told that to Onder but not have heard no reply.
I really would like to get back on, Thanks for your time,

ESco

12. shinichi Says:
October 26th, 2013 at 11:45 am

Hi Max,

Do you know where to purchase a rarefile premium account here in the philippines? I'm looking for an authorized reseller. Hope you could help me.

Thanks and more power to your site!

shinichi

13. maxdugan Says:
October 26th, 2013 at 4:50 pm

Hello Shinichi, please contact http://pesoexchanger.com/ about this, thank you very much

14. maxdugan Says:
October 26th, 2013 at 4:52 pm

Hello Ennis Escobe, no worries my friend, rarefile did email you about it, kindly check your spam and junk email folders my friend, also i had informed them about your account being hacked and im sure they will fix this, thank you very much

15. shinichi Says:
October 26th, 2013 at 5:23 pm

Hi Max,

I'll contact them.

Thanks.

shinichi

16. maxdugan Says:
October 26th, 2013 at 5:28 pm

Thank you too Shinichi

17. waqas mughal Says:
October 29th, 2013 at 11:50 am

dear I saw your web site i'm very impressive to see your site plz I want rarefile premium account plz help me what can I do you give this.

18. maxdugan Says:
October 29th, 2013 at 3:49 pm

Hello Waqas, you can purchase using the link above, its very easy, please give it a try, thank you very much

19. r_r Says:
October 30th, 2013 at 5:02 am

Hi Max, is there any way to directly pay with PP rather than through reseller? I don't like having to register to a website which going to use once only. Thx

20. maxdugan Says:
October 30th, 2013 at 5:30 am

Hello R_R, yes and its easy, just click on the link – http://www.rarefile.net/pages/ppoffer.html, choose your plan, check out and you will clearly see that option, thank you very much

21. ReneG Says:
October 31st, 2013 at 7:35 am

Hello Max,
I was trying to renew my subscription using my credit card but there is an error "could not connect to http://www.downloadnolimit.com".
Please help. Thank you very much.

22. maxdugan Says:
October 31st, 2013 at 5:05 pm

Hello ReneG, the correct link is http://www.downloadnolimit.com/rarefile, thank you very much

23. ReneG Says:
November 1st, 2013 at 5:17 am

Thanks max

24. maxdugan Says:
November 1st, 2013 at 6:06 am

Thank you too ReneG

25. ninja14r Says:
November 4th, 2013 at 6:36 pm

I decided to extend my acct. and it took away my 4 days I had left, just a warning to folks not to buy a new one too early and put in the new code. 4 days is not a big deal but could have been worse, Rarefile has been great otherwise!. Thanks

26. maxdugan Says:
November 4th, 2013 at 7:13 pm

Hello Ninja14r, according to rarefile, they are extending your account for the error, kindly check your email after a while, they are also sending their apologies, thank you very much

27. RareFile Support Says:
November 4th, 2013 at 7:34 pm

Dear ninja14r ,

I fixed your problem and gifted to your account +5 Days Premium membership for this issue already. Please check your account. You have 99+ Days Premium Memebership in your account now. We are very sorry for the technical glitch.

Onder
Support RareFile.net

28. Tom Says:
November 5th, 2013 at 4:09 pm

Hi Max, What happened with zamboshop are we still able to get premium from them? Thanks

29. ninja14r Says:
November 5th, 2013 at 7:48 pm

Nice suprise! Thanks Max and Rarefile.

30. maxdugan Says:
November 5th, 2013 at 10:37 pm

Thank you very much too Ninja14r

31. maxdugan Says:
November 5th, 2013 at 10:43 pm

Hello Tom, im very sorry but zamboshop closed after multiply closed, you can use the above links for rarefile premium, thank you very much

32. hoh Says:
November 9th, 2013 at 11:25 am

Hi, your posting is wrong – the amount indicated for 90 days is USD29.90 but when i tried to purchase it showed TL65.00 [Turkish currency] which is equal to USD32.00. Also there is a limit to the amount for download whereas your posting shows unlimited. This is very disappointing.

33. maxdugan Says:
November 9th, 2013 at 11:46 am

Hello Hoh, it is UNLIMITED, there are NO LIMITS to premium accounts. Please disregard the monthly bandwith numbers, they are there for display only.

The exchange rate is based on the Turkish lira, and the exchange rates changes every hour, please try again after a few hours and you will see the difference, thank you very much

34. Big Z Says:
November 18th, 2013 at 1:11 am

I am trying to down load with IDM off Dizz Cloud and the rar keep turning into HTML. I am logged on with a Premium account I am using IDM and they keep changing.

35. maxdugan Says:
November 18th, 2013 at 1:35 am

Hello Big Z, which IDM version are you using? Please try to install the newest version, also please log in to your dizzcloud account at dizzcloud.com, then click on your user name above, please check the box for "Direct Downloads", thank you very much

36. Alvin Abuton Says:
November 24th, 2013 at 4:35 pm

how become a vip?

37. Alvin Abuton Says:
November 24th, 2013 at 4:37 pm

hello, good day, how become a member in rarefile? thanks

38. maxdugan Says:
November 24th, 2013 at 7:04 pm

Hello Alvin Abuton, the rarefile membership is different from the VIp membership, just follow the instructions above to become a rarefile premium member, thank you very much

39. Robin Chan Says:
November 24th, 2013 at 10:18 pm

Hi max. Just wanna ask on how to purchase rarefile premium account here in the Philippines?

40. maxdugan Says:
November 25th, 2013 at 12:15 am

Hello Robin Chan, kindly get in touch with peso exchanger, the link is on the left hand side of the page, thank you very much

41. Nikki Says:
November 25th, 2013 at 6:33 pm

Hey Max, can I purchase a Rarefile premium from you and pay through GCash since I don't have a credit card?

42. maxdugan Says:
November 25th, 2013 at 6:38 pm

Hello Nikki, let me email you directly, thank you very much

43. Robin Chan Says:
November 26th, 2013 at 2:13 pm

Hi Max. Do you have a reseller here in the Philippines?

44. maxdugan Says:
November 26th, 2013 at 2:50 pm

Hello Robin Chan, we are currently arranging for this, kindly check your email, thank you very much

45. Nikki Says:
November 26th, 2013 at 6:30 pm

Could you email me too Max pag available na yung Philippine reseller? Tnx!

46. maxdugan Says:
November 26th, 2013 at 11:07 pm

Hello Nikki, will do that, thank you very much

47. zolco Says:
November 28th, 2013 at 7:30 am

Hi Max, I need a PP payable like 6 month ago…

48. maxdugan Says:
November 28th, 2013 at 4:06 pm

Hello Zolco, its is payable in PP, just follow the link above, then click on hostpacket for the purchase, thank you very much

49. zolco Says:
November 29th, 2013 at 8:05 am

Thank you…is the Pinoy site for same gone?
I don't know of Turks – beside that they occupied my country for 150 years (Budapest,hu)

50. maxdugan Says:
November 29th, 2013 at 3:41 pm

Hello Zolco, im very sorry to hear that, the multiply media store operated in the philippines closed down last march and zamboshop needs to close down too, hostpacket is a turkish company who is just facilitating the process, thank you very much

51. jokix Says:
November 29th, 2013 at 11:08 pm

max magkano pong rarefile? gusto ko pong bumili… pls email me salamat

52. maxdugan Says:
November 29th, 2013 at 11:51 pm

Hello Jokix, please click on the links above, thank you very much

53. frank Says:
November 30th, 2013 at 12:55 am

Hi my j downloader went down a week ago,ive just downloaded the one from your site….now it cant find rarefile,and all my links are offline when I enter them…please help.

54. maxdugan Says:
November 30th, 2013 at 5:42 pm

Hello Frank, kindly check out these simple video tutorials – http://www.rarefile.net/pages/howtouse.html, thank you very much
Leave a Reply