| | |
| --- | --- |
| | SAM Broadcaster v.4.9.1 |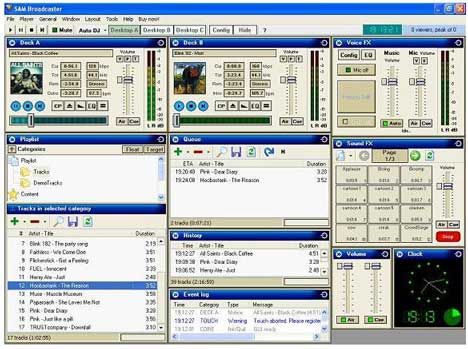 SAM Broadcaster is something of a genius. It's equipped with the same kinds of tools radio professionals use, so you'll sound like you've been at it for years (even if you haven't). Use professional mixing features like cross-fades and beat detection Stream on popular online servers like SHOUTcast 2.0, Manage over 50,000 songs, Get real-time listener statistics and Enjoy a clear, balanced sound.
.
http://www.rarefile.net/smxftvpkp9ce/SamBroadcast.rar
.
6 Responses to this entry.
1. Vicc Saint Says:
February 25th, 2013 at 7:45 pm

thanks alot been looking for this software everywhere and couldn't find it…. thanks again

2. maxdugan Says:
February 25th, 2013 at 7:59 pm

Thank you too Vicc Saint

3. Antish Says:
March 25th, 2013 at 5:45 pm

Max ~ the program is trial, can't i get it full ?

4. maxdugan Says:
March 25th, 2013 at 5:53 pm

Hello Antish, kindly use the patch included in the download please, thank you very much

5. Antish Says:
March 25th, 2013 at 6:11 pm

Thanks max, i got it a bit late because there was no file to explain what to do

6. maxdugan Says:
March 25th, 2013 at 6:50 pm

Thank you too Antish
Leave a Reply