| | |
| --- | --- |
| | 555 Games XP Championship |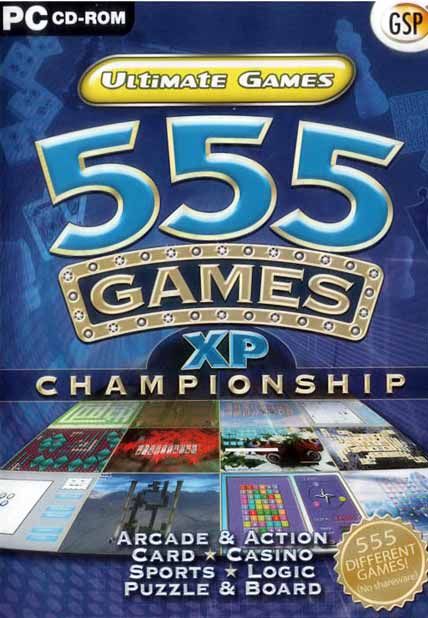 Viva Media has created the ultimate collection of Windows games with 555 GAMES XP CHAMPIONSHIP.  This game pack, which includes no shareware or freeware, guarantees hours of non-stop gaming fun. The package groups the games into categories and uses easy to navigate menus to allow players to quickly find the game they want. The package includes card games, including several different versions of solitaire and poker, sports games, casino games like roulette, jigsaw and logic puzzles, arcade games, action games, board games, and more. With over 500 games in the collection, there's sure to be something for every player. 555 GAMES XP CHAMPIONSHIP will keep gamers busy for hours and is the perfect way to spend an afternoon.
Features:
* Card Games 75+
* Sports Games 40+
* Casino Games 30+
* Jigsaw Puzzle Games 50+
* Arcade & Action Games 130+
.
LINKS ARE INTERCHANGEABLE
.
RAREFILE
http://www.rarefile.net/t99k31i37y30/555Games.part1.rar
http://www.rarefile.net/6yo87w6hxqto/555Games.part2.rar
.
EXTABIT
http://extabit.com/file/2dvrl4edym9p2/555Games.part1.rar
http://extabit.com/file/2dvrl4edym05i/555Games.part2.rar
.
4 Responses to this entry.
1. Bunda Runni Says:
October 21st, 2014 at 4:57 pm

Thanks alot, i ask permition to download it..

2. maxdugan Says:
October 21st, 2014 at 5:57 pm

Thank you very much too Bunda Runni

3. tzytl Says:
October 31st, 2014 at 12:38 am

Hi Max..how is this installed? Thanks.

4. maxdugan Says:
October 31st, 2014 at 3:44 am

Hello Tzytl, kindly use poweriso to open the bin file, then you can choose to extract the contents to your hard disk for installation, thank you very much
Leave a Reply