| | |
| --- | --- |
| | The Complete English Grammar Series (Worth $399.50) – Video Tutorial + eBooks |
Video Aided Instruction's English Grammar Series makes the tricky rules of English grammar easier to learn than ever before – whether you're new to English or you've been speaking it for years!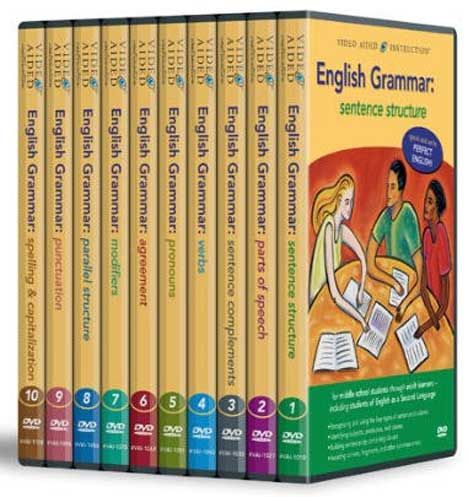 The 10 programs in this series are each divided into 3 to 5 short lessons, making them perfect for classroom use or self-study. They're also ideal for reviewing forgotten grammar or preparing for many verbal standardized tests such as the SAT, TOEFL, GED, and GRE. Plus, they can really help you improve your grades in school or your performance on the job!
Using easy-to-follow examples and practice exercises from everyday life, this series can help you master even the most complicated English grammar topics!

Each Video is Accompanied with an eBook Guide. See contents on next page.
DVD 01: English Grammar: Sentence Structure
DVD 02: English Grammar: Parts of Speech
DVD 03: English Grammar: Sentence Complements
DVD 04: English Grammar: Verbs
DVD 05: English Grammar: Pronouns
DVD 06: English Grammar: Agreement
DVD 07: English Grammar: Modifiers
DVD 08: English Grammar: Parallel Structure
DVD 09: English Grammar: Punctuation
DVD 10: English Grammar: Spelling & Capitalization
http://www.rarefile.net/waa5j0p6ixld/The.Complete.English.Grammar.part1.rar
http://www.rarefile.net/02y7c1ngg2dl/The.Complete.English.Grammar.part2.rar
http://www.rarefile.net/kpdammkfca83/The.Complete.English.Grammar.part3.rar
.
4 Responses to this entry.
1. MB Says:
October 11th, 2017 at 7:55 am

Thanks, MaxD!

2. maxdugan Says:
October 11th, 2017 at 8:40 am

Thank you too MB

3. Wannacry Says:
October 11th, 2017 at 4:14 pm

Dear max,
Please full fill my request that I posted on notes section, thanks.

4. cybernick Says:
October 12th, 2017 at 4:06 am

Ideal to get to grips with the grammar we all fear so much. In the comfort of your own home and at your own pace, learn lesson by lesson on a very good course.
Thanks for posting again. I've mislaid it.
Leave a Reply