| | |
| --- | --- |
| | We Need Your Support to Move to a Bigger Server to Serve You Better |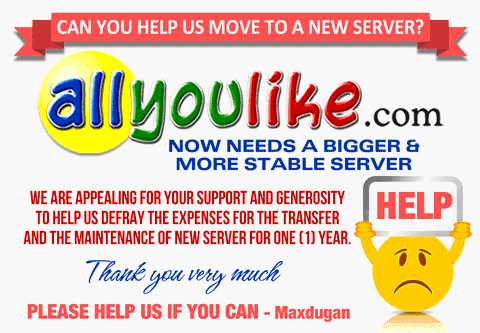 AllYouLike needs to transfer to a bigger and better server at the soonest possible time, and we would like to appeal for your kindness and generosity to help us defray the cost of the server for one year.

.
You can donate using Paypal OR Debit / Credit Card.
.

THIS IS FOR ALLYOULIKE AND IS NOT RELATED TO RAREFILE. WE WILL REMAIN WITH RAREFILE AS OUR AFFILIATE PARTNER. PLEASE TAKE NOTE THAT ALLYOULIKE AND RAREFILE TWO DIFFERENT ENTITIES.
THANK YOU VERY MUCH.
.
FOR FREE VIP MEMBERSHIP. AFTER YOU MAKE THE DONATION, PLEASE EMAIL ADMIN@ALLYOULIKE.COM WITH THE AMOUNT YOU DONATED FROM THE SAME EMAIL YOU USED FOR THE DONATION.
.
113 Responses to this entry.
1. cbmusicmaker Says:
February 22nd, 2019 at 5:01 am

You got it! Donating Now! Thanks for EVERYTHING!!!

2. maxdugan Says:
February 22nd, 2019 at 5:41 am

Thank you very much Cbmusicmaker, it means a lot to us, thank you

3. crruzzerrr Says:
February 22nd, 2019 at 5:54 am

Will help as well. Thanks for all you do for us.

4. maxdugan Says:
February 22nd, 2019 at 6:20 am

Thank you very much Crruzzerrr

5. TeX Says:
February 22nd, 2019 at 6:58 am

Done, Sir Max!
Keep Up the good work!
Thank you very, very much!

6. maxdugan Says:
February 22nd, 2019 at 7:33 am

Thank you very much TeX, it means a lot

7. Dave D. Says:
February 22nd, 2019 at 8:04 am

Done. Keep up the great work, Max.

8. Termite Says:
February 22nd, 2019 at 8:09 am

Done, Will also help
Thank you very much Max

9. maxdugan Says:
February 22nd, 2019 at 8:19 am

Thank you so very much Termite and Dave D, this is simply amazing, feeling all the love and support

10. oldsparky Says:
February 22nd, 2019 at 8:36 am

Glad to help after all the great work that you have done for us here.

11. maxdugan Says:
February 22nd, 2019 at 8:57 am

Thank you thank you very much Oldsparky

12. sean Says:
February 22nd, 2019 at 9:15 am

max can u please upload the blueray copy of the aquaman.. thanks a lot

13. Supra65 Says:
February 22nd, 2019 at 10:00 am

Hi Max,

What type of Server are you looking for and your budget. You can email me

14. maxdugan Says:
February 22nd, 2019 at 10:09 am

Hello Supra65, let me ask the admin, thank you very much

15. maxdugan Says:
February 22nd, 2019 at 10:10 am

Hello Sean, the bluray are not released yet, only web-dl and hdrip, thank you very much

16. ninja14r Says:
February 22nd, 2019 at 11:31 am

It's done. Keep up the great work! Max

17. maxdugan Says:
February 22nd, 2019 at 11:40 am

Thank you very much Ninja14r

18. Habakkuk Says:
February 22nd, 2019 at 12:16 pm

Hi Max,

While moving, you may want to consider updating to HTTPS for a more secure connection.

19. Bluemonday53 Says:
February 22nd, 2019 at 4:30 pm

Donation made,as my first port of call for downloads long my it continue

Chris

20. Jadehawk Says:
February 22nd, 2019 at 5:29 pm

Did my part, donation on its way . Thank you for Everyting

21. maxdugan Says:
February 22nd, 2019 at 7:25 pm

Thank you so very much Jadehawk

22. maxdugan Says:
February 22nd, 2019 at 7:25 pm

Thank you very much Chris

23. maxdugan Says:
February 22nd, 2019 at 7:32 pm

Hello Habukbuk, yes thats part of the plan, unfortunately i dont know much about wordpress and will need an expert to do it, thank you very much

24. Polaris Says:
February 22nd, 2019 at 7:49 pm

Did my share today. Thanks for your hardwork

25. maxdugan Says:
February 22nd, 2019 at 7:50 pm

Thank you very much Polaris

26. shutterfree Says:
February 22nd, 2019 at 8:25 pm

done my share. goodluck!

27. maxdugan Says:
February 22nd, 2019 at 8:31 pm

Thank you very much Shutterfree

28. willy Says:
February 22nd, 2019 at 10:22 pm

Done! Thanks for all you do!

29. Brand new Guy Says:
February 22nd, 2019 at 10:29 pm

Paid $100

30. maxdugan Says:
February 22nd, 2019 at 10:44 pm

Thank you very much Brand New Guy

31. maxdugan Says:
February 22nd, 2019 at 10:44 pm

Thank you very much Willy

32. Tran Says:
February 22nd, 2019 at 11:03 pm

contribute $50 to the fund.

33. maxdugan Says:
February 22nd, 2019 at 11:07 pm

Thank you very much Tran

34. Andrew R Says:
February 23rd, 2019 at 12:35 am

Just donated !!! Have used you guys for many years and really appreciate you…

35. GrumpiGrampi Says:
February 23rd, 2019 at 1:23 am

I gave what I could afford. I wish it could be more for the service you render. Maybe you should consider only VIP members can make request as a way to raise funds.

36. NG103072 Says:
February 23rd, 2019 at 1:31 am

Done Max thank you very much for the great service. Keep it up

37. Dennis rivera Says:
February 23rd, 2019 at 2:04 am

Do you have a bpi bank account? Can you send details to my email add?

38. Dave Says:
February 23rd, 2019 at 3:40 am

You deserve it. Thanks for everything

39. yb3j4r Says:
February 23rd, 2019 at 3:50 am

we here to help this great work!!!! Done!! Thanks

40. maxdugan Says:
February 23rd, 2019 at 7:16 pm

Thank you very much everyone, this is so overwhelming, didnt realize that we had all of you to support us, thank you thank you thank you very much

41. maxdugan Says:
February 23rd, 2019 at 7:21 pm

Hello Dennis, im sorry we dont, but let me check with the admin, thank you very much

42. KBWizard Says:
February 24th, 2019 at 6:43 am

Can't This week but Friday Next week for sure.

43. bmlawr Says:
February 24th, 2019 at 8:15 am

Gotta wait till end of month to re-new membership for yr, does that help also?

44. Clark Kent Says:
February 24th, 2019 at 8:50 am

Happy to assist, maxdugan has been doing outstanding work for years. All the best and thank you very much for all you do for us. Done, donation successfully submitted. Your loyal friend Clark Kent.

45. David Christensen Says:
February 24th, 2019 at 5:01 pm

Will do! Thanks for everything!

46. maxdugan Says:
February 24th, 2019 at 9:09 pm

Thank you very much David Christensen

47. maxdugan Says:
February 24th, 2019 at 9:14 pm

Thank you very much Clark Kent

48. maxdugan Says:
February 24th, 2019 at 9:17 pm

Hello Bmlawr, yes that will help but the fund-raising is for the server which is important too, thank you very much

49. maxdugan Says:
February 24th, 2019 at 9:18 pm

Thank you very much KBWizard

50. prodkal Says:
February 25th, 2019 at 1:03 am

Absolutely you have my support!
Thank you for all you do!!

51. Demented Labrador Says:
February 25th, 2019 at 5:44 am

Done, thank you for all of your work

52. hugito Says:
February 25th, 2019 at 6:32 am

Done,Glad to help

53. maxdugan Says:
February 25th, 2019 at 6:50 am

Thank you very much Hugito

54. maxdugan Says:
February 25th, 2019 at 6:50 am

Thank you very much Demented Labrador

55. alegaspi16 Says:
February 27th, 2019 at 8:52 pm

do you have other options for donating

56. maxdugan Says:
February 27th, 2019 at 9:23 pm

Hello Alegaspi16, are you in the Philippines? If you are you can use prepaid debit cards or your ATM, please ask the bank about it, thank you very much for your support

57. chuck Says:
February 27th, 2019 at 10:11 pm

Donation sent! Thank you max for your tireless work! You are awesome!!!

58. maxdugan Says:
February 27th, 2019 at 10:28 pm

Thank you so very much Chuck, am getting worried about this already if we will reach our goal

59. Dave70 Says:
February 27th, 2019 at 11:35 pm

Hi
Made contribution but under different email address

60. maxdugan Says:
February 28th, 2019 at 12:01 am

Thank you very much Dave70

61. Pizman Says:
February 28th, 2019 at 12:42 am

Everyone that uses the service or asks something for his entertainment or study, I believe, He must participate to the upgradion of that service. So I did today!

62. maxdugan Says:
February 28th, 2019 at 12:51 am

Thank you so very much Pizman

63. Kotelawela Says:
February 28th, 2019 at 1:28 am

I wish you all the best and good success for the new servers

64. maxdugan Says:
February 28th, 2019 at 1:34 am

Thank you so very much Kotelawela, it means a lot

65. GatoGato Says:
February 28th, 2019 at 2:02 pm

Hi Mr. Max,
It's a pleasure to help – you share so much and that's the least I can do. Sent via Tito A (give him 1/2 pls).
GatoGato

66. KBWizard Says:
February 28th, 2019 at 3:54 pm

As Promised donation made. Wish it could have been 100 x more for all you do
Thanks Max & Mavric and all who make this the best place on the internet.

67. Demented Labrador Says:
February 28th, 2019 at 8:27 pm

And a little more added to my previous, hopefully, you will get there soon.

68. maxdugan Says:
February 28th, 2019 at 8:33 pm

Thank you so very much Demented Labrador, i really hope we will reach our goal, thank you so much again

69. maxdugan Says:
February 28th, 2019 at 8:34 pm

Thank you thank you very much KBWizard

70. maxdugan Says:
February 28th, 2019 at 8:34 pm

Thank you so much GatoGato, you never fail to support and help us

71. ubamous3 Says:
March 1st, 2019 at 3:34 am

Just donated. Thank you Max and allyoulike team for your great work!

72. maxdugan Says:
March 1st, 2019 at 4:42 am

Thank you so much Ubamous3

73. 1stscmrgreen Says:
March 1st, 2019 at 5:04 am

Donation on it's way – A huge thanks for all the hard work. :o)

74. maxdugan Says:
March 1st, 2019 at 5:05 am

Thank you very much 1stscmrgreen

75. @nonymous_1 Says:
March 2nd, 2019 at 1:57 am

I have donated too. Hope you reach your goal…
A big thank you to all the team and Maxugan.

76. @nonymous_1 Says:
March 2nd, 2019 at 2:17 am

Thanks, Max Looks interesting…

77. Bradley Says:
March 2nd, 2019 at 2:58 am

If people use your services and don't donate. They should be ashamed of themselves. I don't have a lot but you guys provide a fantastic service so I give what I can. (everyone can donate SOMETHING right?) Thanks for all your work!

78. Bradley Says:
March 2nd, 2019 at 3:01 am

I hope I'm not sending this twice. It didn't show up the first time??? Anyway
If people use your service and don't donate they should be ashamed of themselves. You guys are amazing…. I sent what I could. (I mean everybody can donate SOMETHING right?)

79. antrap Says:
March 2nd, 2019 at 1:31 pm

Glad to donate. When you upgrade can you consider 1. ability to add a New Release movie section for the latest movies out in the theaters or recently released on DVD/pay-per-view, and 2. ability to separate out regular movies from adult movies in the VIP section. Thank you for the great work!

80. maxdugan Says:
March 2nd, 2019 at 7:14 pm

Thank you very much Antrap

81. maxdugan Says:
March 2nd, 2019 at 7:21 pm

Thank you very much Bradley, i genuinely hope that we reach our goal

82. maxdugan Says:
March 2nd, 2019 at 7:26 pm

Thank you very much @nonymous_1

83. @nonymous_1 Says:
March 3rd, 2019 at 3:12 am

I have put my grain of sand… Hope you reach your goal.
All the best.

84. Colin Gold Says:
March 3rd, 2019 at 1:07 pm

Done. You have done some much work sourcing quality content least I can do

85. maxdugan Says:
March 3rd, 2019 at 7:21 pm

Thank you so much Colin Gold

86. maxdugan Says:
March 3rd, 2019 at 7:34 pm

Thank you very much @nonymous_1

87. ubamous3 Says:
March 6th, 2019 at 11:24 am

I just donated $50 more. I hope that allyoulike team will reach its goal. To users who benefited from this wonderful community, please consider helping out as a way to give back. Thank you again Max and the allyoulike team for your great work!

88. maxdugan Says:
March 6th, 2019 at 7:20 pm

Thank you thank you very much Ubamous3, i really hope we will reach our goal, thank you so much for the generosity and support

89. Edwin Says:
March 7th, 2019 at 6:01 am

Hi Max,

I just came back to your site to download something, but says I need to upgrade to "Premium"…Is there no more free download??? Thank you…
Would like to donate too……

ecgilboy

90. maxdugan Says:
March 7th, 2019 at 7:42 am

Hello Edwin, free users can now download files up to 500MB and also more files, kindly read the announcement posted in March 2017 for free users – http://www.allyoulike.com/132614/good-news-for-free-users/ , please follow the instructions and you are good to go, thank you very much.

91. Edwin Says:
March 8th, 2019 at 9:09 am

Hi Max,

I Max I went to the link you provided but I dont know why the buttons are not working (sign up, login..) I dont know if its my company network security or what…but I used to download before…pls. help..

ecgilboy

92. maxdugan Says:
March 8th, 2019 at 6:38 pm

Hello Edwin, please use this link – https://gogetfunding.com/aylnewserver/ , thank you very much for your support

93. P4man Says:
March 9th, 2019 at 5:28 am

just donated $100.00 You have helped me wish I could do more. you do a great job.Great site.

94. maxdugan Says:
March 9th, 2019 at 7:50 pm

Thank you so very much P4man, it will go a long way for us, thank you again

95. TeX Says:
March 10th, 2019 at 1:41 am

There you are, again, Sir Max.
Go On!
We are almost there!
Thank you very much for your service!
Keep up the good work!

96. maxdugan Says:
March 10th, 2019 at 7:10 pm

Thank you very much TeX

97. maxdugan Says:
March 10th, 2019 at 7:47 pm

Hello TeX, can you kindly check your email please? Thank you very much

98. Regius1 Says:
March 13th, 2019 at 4:23 pm

Hi Max, I just contributed today, I got a lot of use from your site. Fantastic Job!

99. maxdugan Says:
March 13th, 2019 at 7:11 pm

Thank you so much Regius1

100. Brand new Guy Says:
March 13th, 2019 at 8:02 pm

Hey,
Max I already donated $100. Does that mean I get lifetime VIP?

BTW congratulations on making your goal. We all love your work

101. maxdugan Says:
March 13th, 2019 at 8:12 pm

Hello Brand New Guy, you are already a lifetime VIP member, hehehe, thank you very much

102. Regius1 Says:
March 14th, 2019 at 5:17 pm

Hi Max, I have already paid yesterday but why all I am getting from the VIP content is Error 404 – not found, I tried from the latest down to the very first post and It is still showing the error.

103. maxdugan Says:
March 14th, 2019 at 5:28 pm

Hello Regius1, did you inform the admin per instructions on this post please? Kindly email admin@allyoulike.com so that the VIP membership can be processed, thank you very much

104. Victor Pham Says:
March 15th, 2019 at 5:49 am

Hello Max,

I donated $100. How can I know that I am a lifetime VIP member? Thanks, Max.

105. maxdugan Says:
March 15th, 2019 at 12:49 pm

Hello Victor Pham, kindly email admin@allyoulike.com with the donations details, thank you very much

106. Marc123 Says:
March 16th, 2019 at 2:07 am

Hello Max

Done. Just donated 100$. Keep up the great work

107. maxdugan Says:
March 16th, 2019 at 8:15 pm

Thank you so much Marc123

108. Christophe Says:
March 18th, 2019 at 1:15 am

Hi max, donated now Keep up the good work!!!

109. maxdugan Says:
March 18th, 2019 at 1:52 am

Thank you very much Christophe

110. tzytl Says:
March 19th, 2019 at 7:45 pm

hello max,
can i still make a donation with free VIP membership? thanks

111. maxdugan Says:
March 19th, 2019 at 7:52 pm

Hello Tzytl, yes its ongoing, i believe there are 6 days left as of today, thank you very much

112. Phil Davis Says:
March 21st, 2019 at 6:32 pm

Done
Thanks so much for your work

113. maxdugan Says:
March 21st, 2019 at 7:45 pm

Thank you very much Phil Davis
Leave a Reply