| | |
| --- | --- |
| | Can We Still Be Friends (2017) 720p HDRip H264 – Filipino Movie with English Subtitles |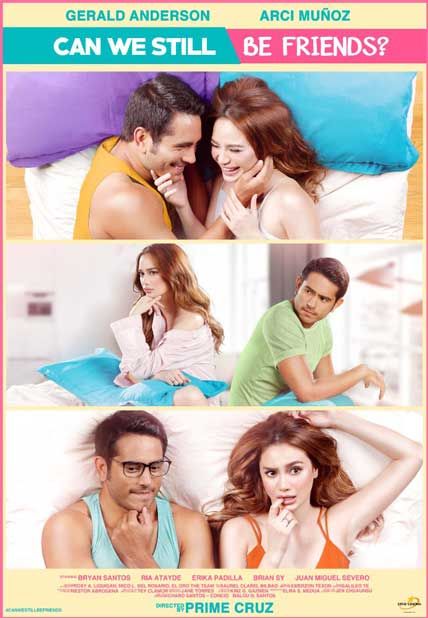 Digs (Gerald Anderson) and Sam (Arci Muñoz) are friends turned lovers and now, sadly, turned exes. Their relationship lasted for almost eight years before they both decide on an amicable breakup, thinking that this is the best for the both of them. And so the two face the dating world separately, checking up on each other under the guise of "friendship". This turns into a competition on who will find a new relationship first. One succeeds while the other realizes that she's still in love with him. This is a relatable relationship story that tries to answer the age-long question – can exes really be friends?
http://www.rarefile.net/9k325wspz729/CWSBFriends.720pHDRip.H264.part1.rar
http://www.rarefile.net/saypqs2sfy9h/CWSBFriends.720pHDRip.H264.part2.rar
http://www.rarefile.net/7en6tf2pridz/CWSBFriends.720pHDRip.H264.part3.rar
.
6 Responses to this entry.
1. Charlie Says:
September 13th, 2017 at 8:19 am

Thank you very much Sir Max Dugan! Youre the best!

2. Charlie Says:
September 13th, 2017 at 8:21 am

"English only" please Sir jennylyn mercado & derek ramsay, Thank you

3. wills18 Says:
September 13th, 2017 at 1:49 pm

Thank you Sir Maxdugan

4. Yohkie Says:
September 14th, 2017 at 10:57 am

Salamat Sir max… Sa Kopya.. Sana Makapag Upload kayo ng "Mang Kepweng Returns".. "Dear Other Self".."kita kita"… "I'm Drunk.. I Love You".."English Only Please".. Thank u ulit.. mabuhay kayo

5. jose Says:
September 14th, 2017 at 3:09 pm

Thanks Sir Max.

6. Boneck Says:
September 15th, 2017 at 2:48 pm

Pano po madownload bakit po ayaw
Leave a Reply