| | |
| --- | --- |
| | Andy the Android Emulator v46.16.60 Multilingual |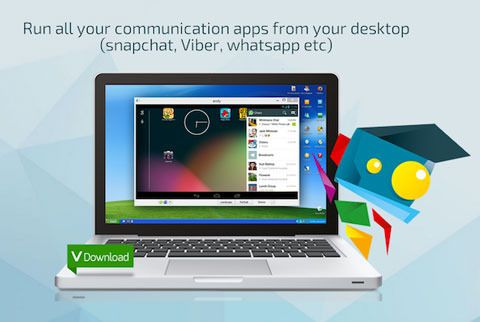 Andy is the Android emulator that allows you to run all of your Android apps directly from your PC or Mac. It breaks down the barrier between desktop and mobile computing, while keeping a user up to date with the latest Android OS feature upgrades. Moreover, Andy also provides users with unlimited storage capacity, PC and Mac compatibility, and the freedom to play the most popular mobile games on a desktop. In short, you can now run Android OS on Windows OS or Mac OS.
With your phone as a joystick, you will never have to sacrifice the multi-touch or gyro elements of gaming.
The seamless connection between desktop and mobile will let you receive a SnapChat phone picture on the street and see it on your desktop at home or even in a whatsapp message.
Andy the Android Emulator Features:
Provides seamless sync between desktop and mobile devices without the hassle of wireline or wireless connection
Connects Win/Mac with Android apps for launching, push notifications and storage
Enables app download from any desktop browser direct to Andy OS
Ensures most up to date Android OS at all times
Brings your favorite communication and entertainment mobile apps to the desktop
Use your phone as a remote control when playing games
No longer be bogged down by the limited storage on your mobile device or PC hard drive wireless connection
Features
• Full Android UI
• Support Windows 7,8,10
• Google Play Store
• App Sync to Mobile
• Phone as Contoller
• Android access to local File System
• Multi-Touch support
• Cloud Save in Android
• X86 native apps
• ARM support
• Sensors Integration
• OpenGL Hardware support
• Camera Integration
• Microphone Integration
• Hardware Console
• Run Apps from Desktop
• Desktop Push Notifications
• Developers Support
Minimum Requirements
• AMD or Intel Dual-Core CPU that supports Virtualization technology (AMD-vt or Intel VT-x)
• Windows 7/8.x x86 or x64
• 3GB RAM
• Up to 20GB Fee Disk Space
• OpenGL ES 2.0 capable video card
** NOTE Make sure 'Virtualization' is enabled in BIOS.
http://www.rarefile.net/hcaphdh9npdm/Andy.46.16.60.x64.part1.rar
http://www.rarefile.net/8sg9bmds2p48/Andy.46.16.60.x64.part2.rar
http://www.rarefile.net/w4napzj7lag6/Andy.46.16.60.x86.part1.rar
http://www.rarefile.net/2xxzvbmnnlgx/Andy.46.16.60.x86.part2.rar
.
13 Responses to this entry.
1. Mercy Says:
September 22nd, 2015 at 5:18 am

Thanks, MaxD!

2. maxdugan Says:
September 22nd, 2015 at 5:19 am

Thank you too Mercy

3. irish5 Says:
September 22nd, 2015 at 10:24 am

thank you will try this one

4. JUNDULLOH Says:
September 22nd, 2015 at 4:38 pm

tanks max… istimewa

5. maxdugan Says:
September 22nd, 2015 at 6:10 pm

Thank you too Jundulloh

6. maxdugan Says:
September 22nd, 2015 at 6:13 pm

Thank you too Irish5

7. Avaran Says:
February 24th, 2016 at 11:09 am

I am not able to run the app. After installation I start, no Android welcome screen is seen whatever I do. I use win7

8. ripley Says:
April 15th, 2017 at 2:41 pm

Hi max, could you re-upload Andy Emulator o.35.42
thank you very much…

9. rb Says:
April 21st, 2017 at 4:01 pm

please reload andy the android emulator 0.45.32
thank you

10. wise0ne Says:
August 2nd, 2017 at 5:28 pm

hello max. thank you so much for uploading the photoshop plugins i had asked for.!! anyway you could reup this? take care max!!

11. 13cpsjerry Says:
December 2nd, 2017 at 11:24 pm

Please upload again

12. Jekyll&Hyde Says:
December 3rd, 2017 at 3:05 am

Sorry to barge into this party without an invite; how do you type the @ sign in this programme. I've tried all the combinations and languages even the Ascii code and to no final avail. Please help when you can. This means a great deal to me.
Have a great weekend.

ps no at sign no sign in no games or apps possible.

13. Jekyll&Hyde Says:
December 3rd, 2017 at 6:29 am

Works with games and most apps. The keyboard is the only tricky thing for me.
Copy paste not possible. Ascii code no. AltGr not recognised.
Do you know a way to work around this.
Thanks in advance.
Happy weekend.
Leave a Reply